April 16, 2023
The normal, day-to-day occurrences in this topsy-turvy world often obscure our ability to see clearly how good God is to all His creatures, and especially toward His beloved children.
Such was not the case for the Psalmist who observes,
Oh, give thanks to the Lord, for He is good! For His mercy endures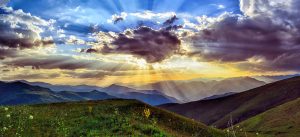 forever. Let the redeemed of the Lord say so, Whom He has redeemed from the hand of the enemy, And gathered out of the lands, From the east and from the west, From the north and from the south. Psalm 107:1-3 (NKJV)
Also,
Make a joyful shout to the Lord, all you lands! Serve the Lord with gladness; Come before His presence with singing. Know that the Lord, He is God; It is He who has made us, and not we ourselves; We are His people and the sheep of His pasture. Enter into His gates with thanksgiving, And into His courts with praise. Be thankful to Him, and bless His name. For the Lord is good; His mercy is everlasting, And His truth endures to all generations. Psalm 100:1-5 (NKJV)
One theologian defines goodness as: "The disposition in God to impart happiness to His creatures."1
Another theologian makes this observation about the God's goodness,
Goodness, in the Scriptural sense of the term, includes benevolence, love, mercy, and grace. By benevolence is meant the disposition to promote happiness; all sensitive creatures are its objects. Love includes complacency, desire, and delight, and has rational beings for its objects. Mercy is kindness exercised towards the miserable, and includes pity, compassion, forbearance, and gentleness, which the Scriptures so abundantly ascribe to God. …The love of a holy God to sinners is the most mysterious attribute of the divine nature. …God saves sinners, we are told, "That in the ages to come He might show the exceeding riches of his grace in his kindness toward us, through Christ Jesus." (Epj.ii.7.)2
Despite the naysayers of this modern era, God is good, and we can find examples of His goodness in the following,
God created us in His image with self-awareness and self-determination. We can think, reason, and we have free choice.
God gave us senses to enjoy this world, as He created it—very good! We can rejoice in the blessings this world offers all of us.
God blesses us with a reasonable portion of life, health, and strength.
Every day, God shows His patience and long-suffering towards, for all have sinned and come short of His glory. (Romans 3:23)
God is merciful and extends His love and forgiveness to us by paying our sin debt through Jesus Christ. Thus, we can be loved and forgiven.
We will know God's goodness in full measure when the Christ returns for us. Then, we will spend a blessed eternity with Him, as He promised,
Jesus Christ gives us access to God's goodness and mercy by  virtue of our faith in His supreme, vicarious, efficacious sacrifice performed at Calvary. And for those of us who trust Him, He assures us He will supply us with His eternal goodness, mercy, and glory upon His imminent return,
Let not your heart be troubled; you believe in God, believe also in Me. In My Father's house are many mansions; if it were not so, I would have told you. I go to prepare a place for you. And if I go and prepare a place for you, I will come again and receive you to Myself; that where I am, there you may be also. John 14:1-3 (NKJV)
The Lord has never broken any of His promises. He is the embodiment of  all that is faithful and true. Thus, as James observes, we can know Him as the source of all that is good, pleasant, and wonderful. In Him we can find great encouragement—even in these sin-darkened days,
Every good gift and every perfect gift is from above, and comes down from the Father of lights, with whom there is no variation or shadow of turning. James 1:17 (NKJV)
God is good, and His mercy endures forever. He especially reveals these characteristics in His longsuffering towards all who remain in pride, rebellion, and sin.
Nevertheless, He is not willing that any should perish, but that all of us come to know Him personally through repentance (from sin) and faith (toward Jesus Christ) as 2 Peter 3:9 teaches. God is good—all the time!
Won't you give Jesus your heart today, and experience God's goodness personally?
What a Wonderful Savior!