For September 24, 2018
While reading Leviticus 20:26 (NLT): "You must be holy because I, the Lord, am holy. I have set you apart from all other people to be my very own," I was reminded of the Lord's command to: "But you are to be perfect, even as your Father in heaven is perfect," (Matthew 5:48 NLT).
Some challenge the idea of "holy" Christian living by offering examples of high profile moral failures as proof that it can't be done. Others, who argue from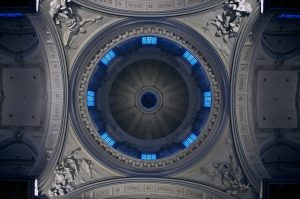 the position of innate human frailty, will offer the "nobody's perfect" excuse as proof.
However, both of these arguments fail to consider that these commands were spoken by an all-knowing, eternal God and an all-powerful, risen Savior who expects our obedience, weather we choose to accept the validity of the commands or not.
God created us and He knows us better than we know ourselves. He loves us so deeply that He personally ensures our victory over sin by providing all the spiritual resources we need to live morally and spiritually Christ-like as we face the day-to-day growth opportunities that test our faith and our Christian walk.
Our Spirit-driven life is a byproduct of our sincere faith in Christ alone. It transforms us from the inside out while making us pleasing to God–despite our human frailty. In addition, His Spirit within us helps us crave more of His power to be manifested in our lives each day.
Thus, our perfect God provides us with all the spiritual resources we need to "conform to the very image of Christ" so when we see Him, "we shall be like Him" (Romans 8:29, 1 John 3:2).
What an awesome privilege and tremendous responsibility; not only do we carry our Lord's name as Christians, we also disclose Him to others through our Christ-centered thoughts, words and actions.
As we prepare for the growth opportunities we inevitably will face, let us not forget that God calls us to be His holy people. And as such, we are designed to share the morally and spiritually impeccable life of our Lord and Savior Jesus Christ in ways that will not only transform others and us, but will bring Him glory as well.
We can do it.