For October 16, 2018
The title: The Great Physician has been attributed to our Lord Jesus Christ although there is no Bible passage associating Him with that title verbatim. However, there are many strong correlations between the Lord and His ability to heal miraculously. One is found in Matthew 4:23-25 (NIV), which reads: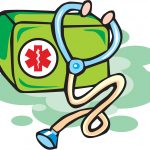 "Jesus went throughout Galilee, teaching in their synagogues, proclaiming the good news of the kingdom, and healing every disease and sickness among the people. News about him spread all over Syria, and people brought to him all who were ill with various diseases, those suffering severe pain, the demon-possessed, those having seizures, and the paralyzed; and he healed them. Large crowds from Galilee, the Decapolis, Jerusalem, Judea and the region across the Jordan followed him."
In John 5:2-8 (KJV), the Great Physician further displays His matchless healing prowess (my emphasis):
"Now there is at Jerusalem by the sheep market a pool, which is called in the Hebrew tongue Bethesda, having five porches. In these lay a great multitude of impotent folk, of blind, halt, withered, waiting for the moving of the water. For an angel went down at a certain season into the pool, and troubled the water: whosoever then first after the troubling of the water stepped in was made whole of whatsoever disease he had. And a certain man was there, which had an infirmity thirty and eight years. When Jesus saw him lie, and knew that he had been now a long time in that case, he saith unto him, Wilt thou be made whole? The impotent man answered him, Sir, I have no man, when the water is troubled, to put me into the pool: but while I am coming, another steppeth down before me. Jesus saith unto him, Rise, take up thy bed, and walk. And immediately the man was made whole, and took up his bed, and walked."
 In Jesus' day, the Pool of Bethesda (or "House of Mercy") was known for its medicinal, bubbling springs with five porches. It was situated near the Temple in Jerusalem and attracted large crowds of people hoping for physical healing.
Among the crowds, was a certain man who was unable to walk. Although we do not know how long he had been at the pool. We do know that he had been suffering from his condition for 38 years. Like all the others at the pool, he wanted healing as well.
The man's problem was every time he tried to reach the water, someone beat him to the water and was healed instead. So when Jesus, the Great Physician saw him, He asks: "Will you be made whole?"
I am fascinated with the Lord's incredible patience as He listened carefully to the man's complaint about not getting to the water first. The irony was that he was staring into the face of the Great Physician, complaining about what seemed to be a healing impossibility.
Never commenting on the man's condition or circumstances, Jesus merely commands him: "Rise, take up thy bed, and walk!" Without arguing or complaining, the man places his faith in the Lord's power to heal by picking up the mat and walking.
In this instance, faith plus obedience produces healing—even in the most dire of circumstances as Hebrews 11:6 (NIV) teaches: "And without faith it is impossible to please God, because anyone who comes to him must believe that he exists and that he rewards those who earnestly seek him."
There are those unfortunate times when we ask, but we may not receive what we ask for. It is during these difficult times when we may feel ignored or neglected by God. But such is not the case.
Although we will never get everything we ask for all the time. Yet, our Lord still remains faithful in all things. In Matthew 7:11, Jesus stated we know how to give good gifts to our children as parents, but God surpasses our ability here.
His perspective is eternal and omniscient, and His thoughts are transcendent and flawless. He has a far better view of what is best for us, and He will do "what is best" in every situation, according to Romans 8:28.
As finite human beings, we can never fully understand the mysteries of God with respect to why He chooses to do what He does when responding to our prayer requests. Sometimes the answer is "no!," and we must trust Him as He tells us:
"My grace is all you need. My power works best in [your] weakness."
(2 Corinthians 12:9 NLT)
God still loves us, and with goodness and mercy, He is certain to respond in our best interest every time by supplying our needs while giving us things that allow us to accomplish His perfect will—for His glory and our collective benefit.
We can ask confidently with a sincere, humble, reverent, self­less, and Christ-honoring posture. As we seek His Kingdom and His righteousness first, we will experience His eternal peace, comfort, joy, and satisfaction just as Matthew 6:33 teaches.
Will you be made whole today?