For February 15, 2019
In Matthew 16, the Lord and His Twelve Disciples are in Galilee near Caesarea Philippi, where He asks: "Who do people say the Son of Man is?"
Their responses were varied: "Some say you are John the Baptist; others say Elijah; while others say you are Jeremiah or one of the prophets."
Not concerned with public opinion. Jesus asks a question that is far more pertinent and personal: "But what about you?" or "Who do you say I am?"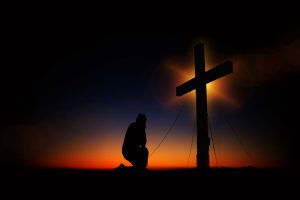 Peter's response, although impulsive, revealed his understanding of the Lord at that time in his life: "You are the Christ (the Anointed One, the Messiah) the Son of the Living God!"
With that, the Lord replies:
"Blessed are you, Simon son of Jonah, for this was not revealed to you by flesh and blood, but by my Father in heaven. And I tell you that you are Peter, and on this rock I will build my church, and the gates of Hades will not overcome it" (Matthew 16:17-18 NIV).
I am glad Jesus Christ is never concerned about satisfying the latest public opinion poll regarding His identity. Even today, some refer to Him as a prophet or a great teacher; others say He was a good man who died a horrible death on a cross.
Chatting with a friend recently, I was reminded of the many poignant discussions about the "Who is Jesus?" question, which occurred over the course of my life. Upon reflection, these discussions seem to be variations of one central question: "How could anyone believe in a dead man's religion?"
Those who ask this question are looking through the prism that views Jesus only as the Son of Man, who died on a cross between two thieves one fateful Friday afternoon. But if all we knew about Jesus Christ was His tragic death, then as 1 Corinthians 15:19 (KJV) reads, "we would be most miserable!"
But thank God; death is not all that we know about Jesus Christ!
There is also the Son of God, who arose on that glorious Sunday morning leaving us with a tomb that remains empty today. Objectivity demands that this historical event has to be acknowledged and considered as well.
When we consider both (i.e., Jesus' death and resurrection) equally and objectively, everything about Him as the God-man becomes crystal clear. Like Peter, we too can understand and acknowledge He is more than just a person who suffered a tragic death on a cross. Also, He is our:
Advocate, Alpha and Omega, Bread of Life, Bridegroom, Christ, Deliverer, Faithful and True, Friend, Good Shepherd, Great God, Great Physician, High Priest, Immanuel, Intercessor, King of Glory, King of Kings, Lamb of God, Light of the World, Lion of Judah, Lord, Lover of Our Soul, Mighty God, Mediator, Messiah, Prince of Peace, Redeemer, Resurrection and Life, Righteous Judge, Rock and Fortress, Savior, True Prophet, The Truth, The Way, and The Word.
Isn't it amazing how God is not too big to care for each of us individually? He is omniscient, having "all knowledge" of every detail of our lives including the exact number of hairs on our heads as promised in Matthew 10:30. Yet He is small enough to care for us personally by asking even today: "Who do you say I am?"
Ultimately, He wants us to trust in Him completely (by giving Him our hearts as it were). Then He can perform His perfect spiritual work inside us that will forever resolve all false assumptions and presuppositions about Him, and give us fellowship with Him that lasts forever.
What a wonderful Savior!