For March 5, 2019
The Holy Spirit or the Comforter shares God's full essence and deity. Terms like the Spirit of Christ, Spirit of God, Spirit of Truth, Holy Spirit, and Holy Ghost are synonymous. Although the Holy Spirit is a person, He has been described using the pronoun "it."
Thus, consequential notions: "it" can be manipulated by human whim; "it" comes or goes, or "it" can be turned on or off—like an electric current—are not consistent with our Lord's description of the Comforter  (Greek: parakletos) in John 14:16-18 (KJV):
I will pray the Father, and He shall give you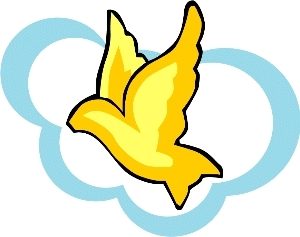 another Comforter, that He may abide with you for ever; Even the Spirit of truth; whom the world cannot receive, because it seeth Him not, neither knoweth Him: but ye know Him; for He dwelleth with you and shall be in you. I will not leave you comfortless: I will come to you.
Jesus promises He will be inside us; abiding with us forever. In His description, He uses the Greek word: Paraclete: one who is "called to one's side" or "called to someone's aid," which conveys the idea of Helper and Advocate.1
Additional characteristics worth noting about the Comforter are:
He is Christ's representative, keeping company with us and living inside us to reveal the Lord's grace and glory each day.
As Advocate, He provides us with the means of identification and association with the Lord Jesus Christ; distinguishing us from those who are not associated with the Lord.
He is the Spirit of Truth whom the world will not understand or receive.
As Teacher, He constantly reminds us of the Lord's incomparable teachings, and He enables us to share those wonderful truths with others for their benefit.
As Helper, He empowers us to emulate the Lord's impeccable lifestyle so that He is glorified in what we say, think, and do.
As Spirit of God, He permeates our hearts and minds with abiding peace, joy, and strength to sustain us through those difficult times all of us will face.
As Sprit of Christ, He helps us to fix our minds on Christ as we confidently await His glorious and imminent return.
The Holy Spirit of God—the Comforter—draws us to Christ, brings us to life (quickens us), secures our identity with Christ (seals us in Christ), guides us, makes us one in Christ, and He prepares us for Heaven.
In this way, our victory over the Enemy in this life, and our victory over death in the next are certain. What a wonderful Savior!