August 17, 2019
Living a fully satisfying life without the presence God is impossible. For He provides His children an exquisite, unsurpassed quality of life along with the exceptional pleasure. As the Lord Jesus Christ says in John 10:10 (NLT): "The thief's purpose is to steal and kill and destroy. My purpose is to give them a rich and satisfying life."
Unfortunately, far too many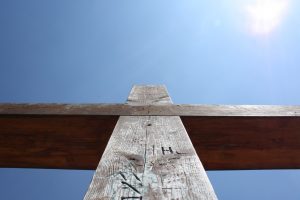 people try to obtain an abundant fully satisfying life through the pursuit of that newest, biggest, and best "toy." Often at another person's expense.
Those people who have futilely tried to find happiness thought worldly extravagance and pleasures (i.e., power, money, sex, drugs, social-political affiliations, etc.) invariably learn that although tantalizing, acquiring material things will leave us empty and unfulfilled; hungry for more material things.
Ultimately, things cannot satisfy the deep human longings as intimate relationship with God through the Lord Jesus Christ does. Our faith in Christ secures our eternal fellowship where He becomes more than just a historical figure—He becomes real and personal friend.
We who experience a personal relationship with God though Jesus Christ truly understand the sentiments expressed in Psalm 34:8: "O taste and see that the Lord is good!"
Peace and joy are two wonderful outcomes of the Lord's goodness. Peace comes from our reconciliation to God afforded us by Christ, which enables us to extend peace towards others (to the same extent we experience peace with God). His perfect peace also comforts us as He loves us and satisfies our deepest needs.
The goodness of God also brings us great pleasure and joy that grows within us daily as we grow to understand that He with us always; working all things together for our good as Romans 8:28 tells us. In addition, our joy is not triggered by material things.
In other words, the joy we have in God through Christ is not based on our external circumstances or on the acquisition of things. Instead, our joy is spiritual, internal and eternal. It enlivens and strengthens us, even in adversity.
When faced with adversity, we can find true comfort in God's Word (the Bible) as we reflect how He delivers us and continues to prove we are not forgotten. Truly the Lord loves us, cares for us, and will not forsake us. What a wonderful Savior!
O taste and see that the Lord is good.