August 26, 2019
At the onset of His earthly ministry, Jesus Christ announced that He could resolve our sin problem with His sinless life and precious blood when He declared: "The time is fulfilled, and the kingdom of God is at hand: repent ye, and believe the gospel." Mark 1:15 (KJV)
His was the greatest proclamation in history because it heralded a New Testament age for all people everywhere. Now we can have our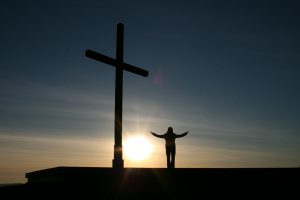 sins forgiven, experience a complete, internal, spiritual transformation, and we can have our need for an intimate, eternal fellowship with God satisfied as well, as Hebrews 9:11-12 (KJV) teaches:
But Christ being come an high priest of good things to come, by a greater and more perfect tabernacle, not made with hands, that is to say, not of this building; Neither by the blood of goats and calves, but by his own blood he entered in once into the holy place, having obtained eternal redemption for us.
This new period in history also revoked all claims of neutrality toward God. In John 8:24, Jesus warned that those who did not believe in Him would die in their sins. Either we can choose to receive His gift of abundant life on earth and eternal life in Heaven, or we can reject it and face an empty, unfulfilled life on earth along with a tormented eternity in Hell as a result.
Of Jesus' Twelve Disciples, Judas was the one who was so preoccupied with obtaining a worldly kingdom that he refused to trust in the Lord and forever changed his identity from Disciple to traitor with a single kiss. Like many people today, the allure of "thirty pieces of silver" was too much to resist, and without Christ as redeemer, eternal separation from God in Hell awaited him.
Our Lord knew that Judas was a godless degenerate, yet He chose him to be one of His Disciples. Even more amazing was how the Lord loved him and gave him every opportunity to repent. For three years, the Lord revealed His redemptive plan to Judas through His moral and spiritual excellence, His astonishing miracles, and His eternal truths like those in Matthew 7:13–14 (KJV).
Enter ye in at the strait gate: for wide is the gate, and broad is the way, that leadeth to destruction, and many there be which go in thereat: Because strait is the gate, and narrow is the way, which leadeth unto life, and few there be that find it.
Although tragic, Judas' example provides hope for everyone everywhere, especially those who feel that God has forgotten them or that they are beyond redemption. In Judas, we see how patient, gracious, and loving Jesus is, as He extends himself to the worst of us freely and willingly. Jesus gives rest to those who labor under heavy loads, with a yoke that is easy and a burden that is light. What a wonderful savior!
Simon, another Disciple, recognized and understood the importance of having a sincere, penitent, and reverent faith in Jesus Christ. (Such a faith yields complete inner spiritual transformation, reconciliation to God, along with the privilege to share eternal blessing and glory with God in Heaven.)
When the Lord Jesus saw this impetuous yet rock-solid leader, He changed his name to Peter (Greek: petros, meaning "rock"). This characteristic was evident during the unfolding of Jesus' warning to Peter that Satan desired to sift him as wheat in Luke 22:31-32.
Because although he denied his Lord three times, he repented, was restored, and later became the leader of the apostles, who fed his Lord's precious sheep. Under his leadership, the New Testament church flourished during its infancy. Later, Peter encapsulates our Christian mission and message in 2 Peter 1:5–8 (KJV):
And beside this, giving all diligence, add to your faith virtue; and to virtue knowledge; and to knowledge temperance; and to temperance patience; and to patience godliness; and to godliness brotherly kindness; and to brotherly kindness charity [love]. For if these things be in you, and abound, they make you that ye shall neither be barren nor unfruitful in the knowledge of our Lord Jesus Christ.
Our Lord Jesus Christ demonstrated these eight moral and spiritual attributes, and we as His followers do so today. In this way, we fulfill His prophecy that we are not of the world and show that we are the recipients of God's amazing grace and love as well.1
We Believers are the living examples of His good news (Gospel), by "living out" the undeniable fact that God can transform vile sinners into His holy people—from the inside out, even today.  Forever grateful, we are humbled by what our Lord Jesus Christ did on our behalf, which we were unwilling and incapable of doing for ourselves.
Now as the salt of the earth, we can represent Him around the world in a manner that reflects His noble character. The power of Satan, the cares of this world, and our own inadequate strength no longer debilitate us, as we operate under His unfaltering might. Should we try to be anything less, and live like the world, we become worthless, like tasteless salt.
We grow to be more like Christ and honor Him in everything we say, think, and do. Our new Spirit-driven life is born out of a sincere faith that transforms us while providing us with the clean hands and pure hearts that God requires.
Are we perfect? Absolutely not, but God is! Moreover, He provides us with all the spiritual resources we need to live for Christ nobly in this life while preparing us for the glorious Heaven awaiting us in the next life. In this way, we affirm the sentiments of Galatians 2:20 (KJV):
I am crucified with Christ: nevertheless I live; yet not I, but Christ liveth in me: and the life which I now live in the flesh I live by the faith of the Son of God, who loved me, and gave himself for me.
Let us give all diligence to follow this wonderful legacy today!