For November 12, 2018
Forty years passed. Gone were the sounds of pomp and fanfare, throngs of friends and well-wishers, servants who catered to every whim, and the regality associated with being King Pharaoh's heir. Those were all distant memories. For instead of leading a great civilization, Moses was leading Jethro's flock on the backside of the desert near Mount Sinai.
One would suppose that Moses knew that he was destined to lead; being exposed to all the opulence and special preparation that royalty afforded him. Yet how, when, and where the leading would occur remained a mystery.
The Lord chose Moses to lead, but not in his strength. His earlier attempt to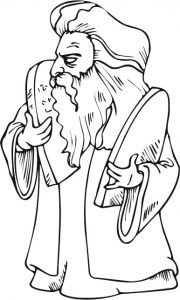 deliver a Hebrew by killing the Egyptian failed miserably. The disgraceful titles of "fugitive" and "vagabond" would replace his noble titles of future "king" and "monarch."
At a burning bush, this humiliated sheepherder found the Holy One in the Sinai Desert, and his life changed forever. Taking off his shoes to show his submission and covering his face to acknowledge his sin and shame, Moses renounced his past, surrendered his present condition, and began a future life of consecrated and illustrious leadership.
God mandated holiness through this transformed servant-leader, who became an exemplary model to the Children of Israel for forty years. Through Moses, we have the ceremonial and judicial principles that influence the religious and social affairs of God's people even today.
His was a forty-year lesson in humility, which he never forgot. Numbers 12:3  refers to him as being "more humble than anyone else on the face of the earth." In addition, it was shortly before his death when he admonished the Children of Israel not to forget the Lord, who protected and provided for them throughout their forty-year wilderness wanderings in Deuteronomy 8:15-16 (NIV):
He led you through the vast and dreadful wilderness, that thirsty and waterless land, with its venomous snakes and scorpions. He brought you water out of hard rock. He gave you manna to eat in the wilderness, something your ancestors had never known, to humble and test you so that in the end it might go well with you.
I can't help but hear him reflect on how he too found the Lord during his own "desert experience." Isn't it amazing how the Lord finds, restores, and uses us when we are humble, attentive, and willing? Even when we feel like we are abandoned and isolated in our desolate wilderness. His thoughts towards us are of peace, not evil; to give us an expected end. (Jeremiah 29:11)
When we quit relying on our own wisdom, knowledge, finance, strength, and  resources—when we are at our lowest point—then we can reach out to the Lord, who will faithfully remind us that we are of great value, and that He loves and cares for us dearly.
Ultimately, Moses learned that when we commit our way to the Lord and trust in Him, He will ensure a successful outcome as Psalm 37:5 teaches.
What a wonderful Savior!