For April 1, 2019
Travelers from around the word assembled in Jerusalem to commemorate the Exodus, or the miraculous deliverance of God's people from Egyptian bondage. Vast crowds descended upon the city because this was one of three designated times when all Jewish males had to assemble before the Lord in the place He chose to meet them, according to Deuteronomy 16:16.
Then on Sunday, it happened. While the people were preparing for the Passover, the excitement in the air fueled a commotion, which was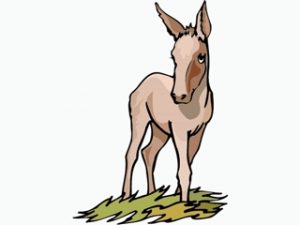 followed by a murmur. The murmur turned into a chant, and the chant became a deafening roar: "Hosanna to the Son of David! Blessed is He who comes in the name of the Lord! Hosanna in the Highest!" (Matthew 21:9)
It was apparent that royalty was coming to town. Jesus Christ had arrived in His earthly splendor and as His critics observe: "The whole world had gone unto Him!" (John 12:19)
Today, chauffeured limousines provide transportation for persons of nobility. Two thousand years ago, conquering rulers rode horseback to symbolize their power or dominance over their vanquished subjects.
Yet humbly and meekly, our Lord rode on the offspring of the donkey to fulfil the words of Zechariah 9:9 (NIV):
Rejoice greatly, Daughter Zion! Shout, Daughter Jerusalem! See, your king comes to you, righteous and victorious, lowly and riding on a donkey, on a colt, the foal of a donkey.
Analogous to flying as a "stand by" customer when He had a first class ticket, Jesus could have used a more notable means to present Himself as King of Kings and Lord of Lords. In other words, Jesus had every right to ride into Jerusalem on horseback as the Conquering King. Instead, He chose to be the Humble Servant, as death awaited Him.
It is quite remarkable that our eternal and holy God chose to occupy human flesh as Jesus Christ. Even more amazing was that although He is our Creator and Sustainer, He used this form of modest transportation on the first day of the last and most important week of His life on earth.
However much like His humble birth, the Lord's choice is not surprising given His description of Himself (my emphasis):
Come unto me, all ye that labour and are heavy laden, and I will give you rest. Take my yoke upon you, and learn of me; for I am meek and lowly in heart: and ye shall find rest unto your souls. For my yoke is easy, and my burden is light. Matthew 11:28-30 (KJV)
On His Triumphal Entry into Jerusalem, our Lord chose the mode of transportation that would present Him as the "Prince of Peace" featured in Isaiah 9:6 also. As result, throngs of people covered the road with clothes or palm branches while swelling crowds cheered and/or waved palm branches in celebration.
Our Lord established a new ministry paradigm featuring genuine humility, unrivaled meekness and matchless love. He humbled Himself subjected Himself to those who were insulting, demeaning and humiliating because He loves us more than we could ever love ourselves
What's all the commotion? Jesus is coming, and He is still accessible to us by faith today. What a wonderful Savior!