For April 12, 2019
It was early Friday morning of Passover Week, and Jesus had not yet slept. Over the last 24 hours, He changed the festive Passover Seder into a commemorative Lord's Supper. Then while in Garden of Gethsemane, Judas betrayed Him into the hands of the corrupt religious leaders for a mere thirty pieces of silver.
He was unjustly hastened before Pilate, Herod Antipas and Pilate again to be condemned to death, but not before cruel Roman soldiers savagely beat him without mercy. Then when they were come to the place, which is called Calvary, there they crucified Him; but was our Jesus Christ a sinless, guiltless innocent victim of egregious injustice?
In Ezekiel 18:4, God tells us everyone belongs to Him and anyone who sins will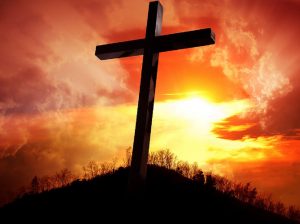 die. While Romans 6:23 tells us that the wages of sin is death. To remedy sin's curse, God sanctioned blood sacrifices to atone for human sin (See Leviticus 17:11).
In other words, sin equals death, and blood atones for sin.
As the Son of Man, Jesus accurately predicted His vicarious death and suffering when He said:
Just as Moses lifted up the snake in the wilderness, so the Son of Man must be lifted up, that everyone who believes may have eternal life in him. For God so loved the world that he gave his one and only Son, that whoever believes in him shall not perish but have eternal life. For God did not send his Son into the world to condemn the world, but to save the world through him. Whoever believes in him is not condemned, but whoever does not believe stands condemned already because they have not believed in the name of God's one and only Son.   John 3:14-18 (NIV)
As the Lamb of God, Jesus chose to pay the price for our past, present, and future sins with His precious blood by freely giving His life at Calvary. In other words, someone had to shed blood and die to pay for our sins, and Jesus alone chose to pay this enormous price for us.
Although our Lord had the opportunity to escape death on the cross, He sought to fulfill God's will instead of His own. Even after being beaten, spat upon, insulted, and crowned with thorns, our Lord was willing to suffer even more disgrace and humiliation by being stripped of His clothing and affixed to a wooden cross. Before throngs of mocking people, He had the power and the right to command legions of angels to destroy all humanity instantly; but He yielded His life for our sins and became our perfect Intercessor instead.
Yes! Our Lord and Savior, Jesus Christ chose to be the innocent victim so that we could experience eternal love, joy, peace and fellowship with God, which continues from this life into the next. What a wonderful Savior!