For June 1, 2019
God created us in His image and likeness. As such, we are responsible to live a life that reflects His majesty—before Him and the world, just as our Lord Jesus taught:
A tree is identified by its fruit. If a tree is good, its fruit will be good. If a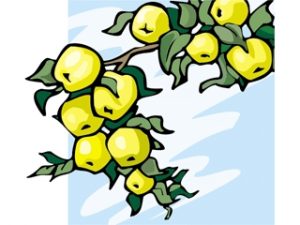 tree is bad, its fruit will be bad. A good person produces good things from the treasury of a good heart, and an evil person produces evil things from the treasury of an evil heart. And I tell you this, you must give an account on judgment day for every idle word you speak. The words you say will either acquit you or condemn you. Matthew 12:33-37 (NLT)
We have a tremendous responsibility to tell our story—right! No one can tell our story but us. For only we can tell a morally noble and ethically courageous story through fruitful and productive lifestyles that model His character and conduct. Such stories honor the Lord and enhance the overall human condition.
A zest for living while celebrating the "little things;" remaining "in the moment;" visionary in the sense of considering the welfare of the next generation; engaging in production, enterprise, personal and professional accomplishments are ways we tell the story right.
Some would argue that improving our thinking enables us to tell the story right. Unfortunately however, human thoughts—subject to our fallen human condition—are corrupted by sin and in desperate need of purging:
As for you, you were dead in your transgressions and sins, in which you used to live when you followed the ways of this world and of the ruler of the kingdom of the air, the spirit who is now at work in those who are disobedient. All of us also lived among them at one time, gratifying the cravings of our flesh and following its desires and thoughts. Like the rest, we were by nature deserving of wrath. Ephesians 2:1-3 (NIV)
Jesus Christ allows us to experience total transformation through the Born Again experience:
But because of his great love for us, God, who is rich in mercy, made us alive with Christ even when we were dead in transgressions—it is by grace you have been saved. And God raised us up with Christ and seated us with him in the heavenly realms in Christ Jesus, in order that in the coming ages he might show the incomparable riches of his grace, expressed in his kindness to us in Christ Jesus. For it is by grace you have been saved, through faith—and this is not from yourselves, it is the gift of God—not by works, so that no one can boast. For we are God's handiwork, created in Christ Jesus to do good works, which God prepared in advance for us to do. Ephesians 2:4-10 (NIV)
The right story encompasses Jesus' death, burial, resurrection, and the newness of life emerging from the love, redemption, and acceptance God provides. Only He has the power to make us new creatures on the inside, which allows us to function at our full potential on the outside.
When we have this intimate relationship with God through Jesus Christ that transforms the heart, His Spirit produces improved behavior, which leaves an indelible witness that follows us beyond the grave as Revelation 14:13 (NIV) teaches: "Blessed are the dead who die in the Lord from now on. Yes, says the Spirit, they will rest from their labor, for their deeds will follow them."
This substantive internal change allows us to disclose His virtue through morally and spiritually distinct lives; lives full of spiritual vitality, love and purpose; lives of peace and joy; lives that honor the Lord and better the human condition of other people living around us.
We reflect His purity of mind and heart where altruism compels us to help others by seeking their wellbeing just as 1 Corinthians 10:24 (NLT) declares: "Don't be concerned for your own good but for the good of others."
We are always cognizant of setting an example of noble and spiritual purity before the world; encouraging and inspiring others into right living as examples of God's holiness, majesty, and purity. Ultimately, we become His reflections of justice showing mercy, kindness, forgiveness, and other noble virtues that better our overall human condition.
Let us tell our story…But tell it right!