For June 15, 2019
Jerusalem is located approximately 2,500 feet above sea level. In antiquity, travelers would lift their eyes unto the hills as they neared Jerusalem or "Mount Zion," as Psalm 121 (KJV) attests:
I look up to the mountains—does my help come from there? My help comes from the LORD, who made heaven and earth! He will not let you stumble; the one who watches over you will not slumber. Indeed, he who watches over Israel never slumbers or sleeps. The LORD himself watches over you! The LORD stands beside you as your protective shade. The sun will not harm you by day, nor the moon at night. The LORD keeps you from all harm and watches over your life. The LORD keeps watch over you as you come and go, both now and forever.
The Jerusalem Temple represented the Lord's earthly abode. Association with Him guaranteed shalom (peace), protection and providence.  Thus, the Psalmist asks and answers the central question: "Where does my help come?"  "From the LORD, who made Heaven and Earth!"
For the People of God, looking up evokes great anticipation and comfort because:
The Lord is the omnipotent and omnipresent Creator of Heaven and Earth.
The Lord is our solid foundation who will not be shaken by our adversity.
The Lord is the Keeper who preserves His people forever.
The Lord never sleeps while keeping His people secure.
We Christians "lift our eyes" to the cross of Jesus Christ. Because there He reconciled us to God and purchased our eternal peace, protection, and providence:
Just as Moses lifted up the snake in the wilderness, so the Son of Man must be lifted up, that everyone who believes may have eternal life in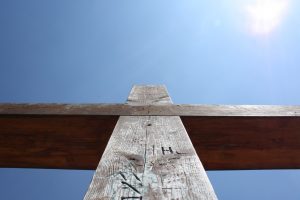 him. For God so loved the world that he gave his one and only Son, that whoever believes in him shall not perish but have eternal life.  For God did not send his Son into the world to condemn the world, but to save the world through him. Whoever believes in him is not condemned, but whoever does not believe stands condemned already because they have not believed in the name of God's one and only Son. John 3:14-18 (NIV)
In 1913 George Bennard, noted for his work with the Salvation Army and the Methodist Episcopal Church, had an experience that made him look at the cross of Jesus in light of Philippians 3:10: "fellowship of His suffering."1 From that experience, he wrote a very popular hymn that raises Jesus' cross from a trivial religious symbol to the very heart of the Gospel for so many of us today:
The Old Rugged Cross
On a hill far away stood an old rugged cross, the emblem of suffering and shame; And I love that old cross where the dearest and best for a world of lost sinners was slain.
On that old rugged cross, so despised by the world, Has a wondrous attraction for me; For the dear Lamb of God left His glory above To bear it to dark Calvary.
In the old rugged cross, stained with blood so divine, A wondrous beauty I see; For 'twas on that old cross Jesus suffered and died To pardon and sanctify me.
To the old rugged cross I will ever be true, its shame and reproach gladly bear; Then He'll call me someday to my home far away, where His glory forever I'll share.
Chorus:
So I'll cherish the old rugged cross, till my trophies at last I lay down; I will cling to the old rugged cross, and exchange it someday for a crown.
Colossians 3:1-4 (NIV) reads:
Since, then, you have been raised with Christ, set your hearts on things above, where Christ is, seated at the right hand of God. Set your minds on things above, not on earthly things. For you died, and your life is now hidden with Christ in God. When Christ, who is your life, appears, then you also will appear with him in glory.
Keep looking up!