For December 15, 2019
Seven-hundred years before the birth of Jesus Christ, Isaiah observed:
For unto us a Child is born, Unto us a Son is given; And the government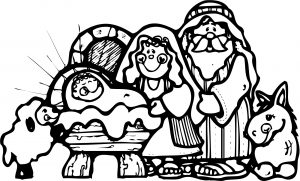 will be upon His shoulder. And His name will be called Wonderful, Counselor, Mighty God, Everlasting Father, Prince of Peace.   Isaiah 9:6 (NKJV)
These prophetic words earmarked a new day for those of us who did not know the Covenant God of Israel. We droped in darkness—without God's grace—doomed to spend an eternity separated from God's eternal presence.
People in Jesus Christ's day were unaware of and oblivious to His lowly birth in a Bethlehem manger. This was because the shepherds' testimony of the Heavenly Host declaring: "Glory to God in the highest, and on earth peace, goodwill toward men!" (Luke 2:14 NKJV), was not reported in the local news.
Just as the people did two-thousand years ago, today we see the tragic outcomes of sin in a world that seems to grow more and more deficient of consciousness and civility by the moment. Leaving us to wonder how people—even as young children—can perform violent acts and vicious murder.
We never consider how our sin produces evil acts, and that our sin is a byproduct of the fallen nature we've obtained at birth and that by nature, we demonstrate the following tendencies consistently:
We are proud, selfish, and dishonest in our interactions with others and God
We are disobedient, rebellious, and ungodly by nature
Since our reality is based on what we can empirically see, feel, touch, taste, and smell, we only understand those things that only "make sense" to us
We have a darkened mind that conjures up evil actions
Yet today in darkness, the human race awaits the grace of God, manifested in Jesus Christ, the Wonderful, Counselor, Mighty God, Everlasting Father, Prince of Peace, who reconciles us to God as Son of God, Lamb of God, and sin-less substitute before God.
Only through Jesus Christ, we can be redeemed recipients of God's grace through faith. Now we can act differently from the world because:
Our sins are washed away and completely forgiven (no longer held captive by sin)
His Holy Spirit, living inside us produces holy fruit of noble character and conduct
His mind dominates out thinking influencing our Godly thoughts and speech
Because of this wonderful First Christmas Gift, we can be new creatures. God's grace alters us drastically, so that we are no longer of this world as we conform to the moral and spiritual image of Jesus Christ.
As benefactor of God's wonderful gift, Jesus makes us suitable to spend our present and future lives with the Lord and know Him as our God, Friend, and Keeper. What a Wonderful Savior!