For February 23, 2020
In an attempt to refute the notion that Jesus Christ was both God and man, naysayers argue that it is futile to rely on Jesus Christ alone to redeem us and that somehow we need someone or something more. My reply to this notion is in 2 Timothy 1:12 (KJV): "I know whom I have believed, and am persuaded that He is able to keep that which I have committed unto Him against that day."
I have determined to follow the Lord Jesus' leadership because He never suggested that His was one of many ways to God. Instead, He insists that He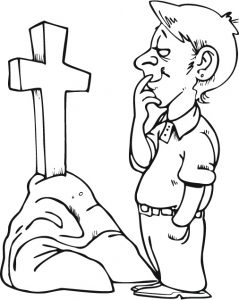 was the only way to God in John 14:6 (NLT): "I am the way, the truth, and the life. No one can come to the Father except through me."
As both the Son of God (God), and the Son of Man (human), Jesus Christ could make the bold assertion: "Before Abraham was, I AM."1 Only He can establish such an unprecedented association with Israel's Old Testament Covenant God (YHWH), which in John 8:56-59, prompted many of His hearers to interpret His words as blasphemy—punishable by death, and to kill Him as Leviticus 24:16 authorized them.
Adam and Eve, our ancestors disobeyed God in the Garden of Eden by eating the fruit from the Tree of Knowledge of Good and Evil. As a result, the entire earth is plagued with sin and death, and we are sinners by nature.2 Thus, the Bible teaches that the wages of sin is death, and all have sinned an fall short of God's glory.3
In other words, according to God's standards for righteousness, death is the payment for our sins while blood provides for our purification.
For the life of the body is in its blood. I have given you the blood on the altar to purify you, making you right with the LORD. It is the blood, given in exchange for a life, that makes purification possible. Leviticus 17:11 (NLV)
To reconcile us to God, someone with great power and authority—who could identify with both God and Humanity—had to die and their blood had to be shed. Thus, Jesus Christ became the "Suffering Servant" to redeem a lost humanity, as Isaiah describes in Isaiah 53:4-6 (NIV):
Surely he took up our pain and bore our suffering, yet we considered him punished by God, stricken by him, and afflicted. But he was pierced for our transgressions, he was crushed for our iniquities; the punishment that brought us peace was on him, and by his wounds we are healed. We all, like sheep, have gone astray, each of us has turned to our own way; and the Lord has laid on him the iniquity of us all.
Jesus Christ insists that Abraham rejoiced to see His day (John 8:56), and as the "Seed of the Woman," He would be the one foretold through whom the entire world would be blessed.4 And as "The Good Shepherd," His vicarious death imparted new life to His precious sheep just as He promised, "The Thief cometh not, but for to steal, and to kill, and to destroy: I am come that they might have life, and that they might have it more abundantly." John 10:10 (KJV)
Our Lord's mission and message about the Kingdom of God is distinct from anything the world has ever seen or heard, and His theme is very simple:
For God so loved the world that he gave his one and only Son, that whoever believes in him shall not perish but have eternal life. For God did not send his Son into the world to condemn the world, but to save the world through him. Whoever believes in him is not condemned, but whoever does not believe stands condemned already because they have not believed in the name of God's one and only Son.  John 3:16-18 (NIV)
The Apostle Peter summarized this radical idea when He states in Acts 4:12 (NIV): "Salvation is found in no one else, for there is no other name under heaven given to mankind by which we must be saved."
We must accept Jesus Christ as our personal Lord and Savior. Nothing else is required, and no one else is needed in order for us to benefit from the vicarious merits of His perfect life and sacrificial death. In the final analysis, absolute safekeeping is ours through Jesus Christ who died for our sins and rose for our Justification as Romans 4:25 tells us.
What a Wonderful Savior!