For July 19, 2020
While reviewing the recent news headlines, one has to wonder if there is any good news to be found…anywhere!
For if this twenty-first-century world—filled with its wars, hatred, hostility, violence, disrespect, greed, inconsideration, selfishness, pestilence, disease, uncertainty, and fear—represented all that this life has to offer us, we would be "most miserable," just as the Bible tells us.1
Praise the Lord! This world, and all that's in it does not encompass all that life has to offer, no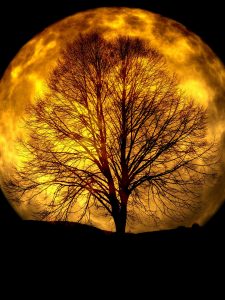 r does it represent our final destination. The Bible tells us we are mere pilgrims and strangers traveling through it.2 For some, the journey may be thirty years while others exceed the seventy-year benchmark given in Psalm 90:10. Whatever time we have, Job 14:5 tells us the Lord has determined the exact day and time of our departure.
Let's pause for a moment to explore the actions of our loving Creator as Genesis 1:1 (AKJV) depicts, "In the beginning, God created the heavens and the earth," which begs the questions, Could not such a Being create all that exists today? Could He not also preserve and sustain it?
We can be encouraged that God continues to do all these things and more, just as Nehemiah 9:6 (NLT) tells us,
You alone are the Lord. You made the skies and the heavens and all the stars. You made the earth and the seas and everything in them. You preserve them all, and the angels of Heaven worship you.
What's more; instead of expressing Himself as an impersonal, ambiguous force to be reckoned with, God chooses to fellowship with the pinnacle of His creation—the human species (that's you and me)—through His Son, Jesus Christ; Who died for our sins and rose for our justification, as Romans 4:25 attests.
When we fix our eyes on Jesus, we experience eternal reconciliation with God. And as we seek His Kingdom and righteousness first, we can experience His eternal peace, comfort, and joy as He supplies what we need (Matthew 6:33).
This is possible because He alone is God, and He is completely sovereign,
Although this sovereignty is thus universal absolute, it is the sovereignty of wisdom, holiness, and love. The authority of God is limited by nothing out of Himself, but it is controlled, in all its manifestations, by His infinite perfections. This sovereignty of God is the ground of peace and confidence to all His people. They rejoice that the Lord God omnipotent reigneth; that neither necessity, nor chance, nor the folly of man, nor the malice of Satan controls the sequence of events and all their issues. Infinite wisdom, love, and power, belong to Him, our great God and Savior, unto Whose hands all power in Heaven and earth has been committed.3
Yet, while we await our departure from this earth, the Lord has promised everlasting communion with both He, and the Father through the Spirit along with eternal life being prepared for us in Heaven,
Don't let your hearts be troubled. Trust in God, and trust also in me. There is more than enough room in my Father's home. If this were not so, would I have told you that I am going to prepare a place for you? When everything is ready, I will come and get you, so that you will always be with me where I am (John 14:1-3 NLT).
His is an intimate, communion that lasts forever. For in Christ, we have the Comforter who gently comforts, helps, guides, teaches, and secures us until we inhabit our eternal home as John 16:7-15 tells us.
The Lord has been with you since before you were born; shaping you in your mother's womb; planning your bright hope and expected end that will inspire others and honor Christ now and forever. And because we yet matter to the Lord, let us be encouraged by knowing that He is with us, to help us and sustain us, just as the Psalmist presents in Psalm 121:1-8 (NKJV),
I will lift up my eyes to the hills—From whence comes my help? My help comes from the Lord, Who made Heaven and earth. He will not allow your foot to be moved; He who keeps you will not slumber. Behold, He who keeps Israel Shall neither slumber nor sleep. The Lord is your keeper; The Lord is your shade at your right hand. The sun shall not strike you by day, Nor the moon by night. The Lord shall preserve you from all evil; He shall preserve your soul. The Lord shall preserve your going out and your coming in From this time forth, and even forevermore.
Because He's promised to keep us to the end, we can rest assured the Creator and Sustainer of Heaven and earth will keep His word also.
What a Wonderful Savior!