For August 2, 2020
There is a tremendous faith lesson to be learned from the Old Testament prophet, Elijah at Mount Horeb (Siani), which followed his victory at Mount Carmel over King Ahab's eight-hundred and fifty idolatrous, false prophets, which was also accompanied by an abundance of rain that ended a severe drought.
Yet, this Man of God fled for his life—hundreds of miles away from Queen Jezebel—who threatened to kill him to avenge the death of her disgraced, false prophets. Elijah would recount how he felt alone in his zeal for the Lord, and that everyone had rejected God, destroyed His altars, and are killing His prophets.
After his forty-day and forty-night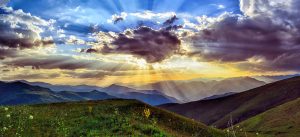 pilgrimage, he arrived at Horeb where he faced a severe wind, a jarring earthquake, and a raging fire. Then, He heard a "still small voice" and recognized it was the Lord at work. Immediately, he covered his face with his mantle cloak and stood at the opening of the cave and awaited further instructions.
"What are you doing here, Elijah?" God asks. Then Elijah expresses his concerns,
I have been very zealous for the Lord God Almighty. The Israelites have rejected your covenant, torn down your altars, and put your prophets to death with the sword. I am the only one left, and now they are trying to kill me too.1
We do not have the four-hundred and fifty prophets for Baal along with four hundred prophets for Asherah to seduce us today. Instead, political power and influence, honor and prestige, pride and selfishness, personal possessions and self-absorbing toys, greed and covetousness, personal and professional success, and physical pleasure/hedonistic pursuits—which will not follow us beyond the grave—have replaced them to distract us from turning to the Lord as our God…and relying on Him for our everything.
However, during Elijah's encounter, the Lord reminds Elijah (and us) of His precious remnant by asserting He has reserved seven thousand in Israel who have remained true by not participating in rampant idolatry so prevalent at the time.2. In other words, the Lord was not calling Elijah's attention to a specific number. He was teaching a very important lesson, He will always preserve His remnant…anywhere at anytime.
Fast forward about nine-hundred years, our Lord Jesus tells us that the way of life He provides is so "straight and narrow" that only a few will find it.3 In addition, during His Intercessory Prayer, He foretells how His followers live "in the world," yet they will never become "of the world"4 These valuable life principles remain true for us today.
Typically, God's remnant does not garner the fame, fortune, or accolades of the masses, even though there may be famous and influential people among them, as 1 Corinthians 1:26-31 (NIV) attests,
Brothers and sisters, think of what you were when you were called. Not many of you were wise by human standards; not many were influential; not many were of noble birth. But God chose the foolish things of the world to shame the wise; God chose the weak things of the world to shame the strong. God chose the lowly things of this world and the despised things—and the things that are not—to nullify the things that are, so that no one may boast before him. It is because of him that you are in Christ Jesus, who has become for us wisdom from God—that is, our righteousness, holiness and redemption. Therefore, as it is written: "Let the one who boasts boast in the Lord."
We do not seek notoriety since our spiritual eyes are on the Lord Jesus Christ, who is the source and consummation of our faith in God, and His Spirit actively works within us.
Thus, from the moment we meet Christ onward, ours is a life-long race where His penetrating words ring true for us each day,
If any of you wants to be my follower, you must give up your own way, take up your cross daily, and follow me. Luke 9:23 (NLT).
God commands us to be holy, just as He is holy, and Jesus calls us to be perfect as God is perfect. He is the Vine, and as His branches, we yield His morally and spiritually pleasant fruit consistently—as His remnant.5
Although only Jesus was perfect, yet we can make every effort to refrain from habitual sin and let our lights shine before the world. Then we can glorify God and be a blessing to others just as the Lord teaches in Matthew 5:16.
Oh, how I long for a time when noble character with principled behavior is deemed as innate Christian characteristics for all of those whom He has called out of darkness into His marvelous light. Why not start today?
What a Wonderful Savior!