For February 7, 2021
When asked how many times we should forgive, the Lord Jesus Christ's response was immediate, "Not just seven times, but seventy times seven!" (Matthew 18:22) We must be willing to forgive to the extent that He has forgiven us.
In other words, it is incumbent on us as Christians not to seek revenge, harbor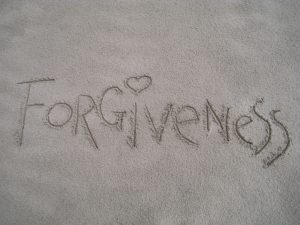 grudges, or express ill will toward others whom we feel may have wronged us. Instead, the Lord challenges us to give them a "clean slate," by treating them as if they have never wronged us, just as He does for us.
He expresses this Kingdom principle in His Model Prayer,
And forgive us our debts, as we also have forgiven our debtors…For if you forgive other people when they sin against you, your heavenly Father will also forgive you. But if you do not forgive others their sins, your Father will not forgive your sins (Matthew 6:12-14 NIV).
Romans 12:19-21 (NLT), which cites from Deuteronomy 32:35 and Proverbs 25:21-22, elaborates further on the necessity for forgiveness,
Dear friends, never take revenge. Leave that to the righteous anger of God. For the Scriptures say, "I will take revenge; I will pay them back," says the Lord. Instead, "If your enemies are hungry, feed them. If they are thirsty, give them something to drink. In doing this, you will heap burning coals of shame on their heads." Don't let evil conquer you, but conquer evil by doing good.
While on the earth for nearly four years, the Lord taught incomparable lessons  on humility and self-denial such as, "If any man will come after me, let him deny himself, and take up his cross, and follow me" (Matthew 16:24 KJV). But the Twelve Disciples were slow to capture the essence of His teachings, much like we are today.
In addition, we have the Lord as our prime example of humility and self-sacrifice. He freely emptied Himself of His deity and took on a human form so that He could offer Himself as our payment for sin. Yet again, we do not understand that the Kingdom of God encompasses the spiritual realm of God's glory, majesty, and dominion over the heavens and the earth. It is not a visible kingdom now, but it will be gloriously and incredibly visible soon.
As it was two thousand years ago, it is still true today. We prefer retaliation over reconciliation. From childhood to adulthood, we are taught not to "show any weakness" or let someone "take advantage" of us.
The Lord characterized the End Times as a period of escalating hostility. We see overt "Signs of the Times" in heightened levels of national and international warfare, the proliferation of hostility and rage, and increasing random violence.
In our modern world, we keep track of offenses, and we bear grudges when we need to overlook the offense and forgive the offender. We also "rate" sins on a "sliding scale" as though one sin was more heinous than another looking to justify ourselves.
 But no one can make comparisons since all of us have sinned, and we are deficient of God's righteous standards (Romans 3:23). Rating sin can lead to falsely characterizing others for past criminal behavior, drug use, marital infidelity, divorce, or an abhorrent lifestyle—even when they now live for Christ fully.
Most of all, it's hypocritical to condemn someone for his or her past when we have "skeletons" in our closet, as Jesus observes in Matthew 7:3-5 (NLT):
And why worry about a speck in your friend's eye when you have a log in your own? How can you think of saying to your friend, "Let me help you get rid of that speck in your eye," when you can't see past the log in your own eye? Hypocrite! First get rid of the log in your own eye; then you will see well enough to deal with the speck in your friend's eye.
All our sliding scales need rescinding and must be replaced with true forgiveness—that is to say, forgive the offender while forgetting the offense.
We cannot impose our self-righteous human standards on God's divine principles by forgiving certain offenses or forgiving only to a certain level. We must practice what I heard my parents, teachers, and ministers say to me while I was growing up, "God hates sin, but He loves the sinner."
Just as God does, we too must distinguish between the offense (or sin) and the offender (the sinner) through forgiveness. Certainly at the very least, our lives would be much healthier and happier as a result.
What a Wonderful Savior!