For March 15, 2020
During the glory days of ancient Israel, King Solomon had the Temple constructed to honor the name of the LORD; the Creator of Heaven and Earth; the God of Israel. Upon its completion, Solomon offered a prayer of dedication to invoke God's presence and blessing on the Temple and His people forever in 2 Chronicles 6:18-21ff (NLT):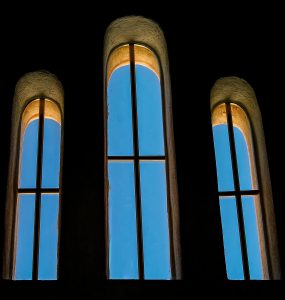 But will God really live on earth among people? Why, even the highest heavens cannot contain you. How much less this Temple I have built! Nevertheless, listen to my prayer and my plea, O LORD my God. Hear the cry and the prayer that your servant is making to you. May you watch over this Temple day and night, this place where you have said you would put your name. May you always hear the prayers I make toward this place. May you hear the humble and earnest requests from me and your people Israel when we pray toward this place. Yes, hear us from heaven where you live, and when you hear, forgive….
Solomon continues his prayer and closes with the following:
O my God, may your eyes be open and your ears attentive to all the prayers made to you in this place. And now arise, O LORD God, and enter your resting place, along with the Ark, the symbol of your power. May your priests, O LORD God, be clothed with salvation; may your loyal servants rejoice in your goodness. O LORD God, do not reject the king you have anointed. Remember your unfailing love for your servant David.   2 Chronicles 6:40-42 (NLT)
After the prayer, a remarkable thing happened. God answers with fire from Heaven, which consumes the burn offerings and sacrifices dedicated on the brass altar, and the glory of the Lord fills the Temple to such a degree that the priests could not enter the Temple to perform their sacred ministerial duties.
Then those who saw the fire consume the sacrifices along with God's glory filling the temple, bowed themselves, worshipped and praised the Lord saying: "For He is good; for His mercy endures forever!"
An even more astonishing thing happens a few days later. God appears to Solomon at night and affirms his prayer by saying: "I have chosen this place to myself for a house of sacrifice."1
Then God utters those timeless words that I believe are especially relevant and applicable for us today (my emphasis):
At times I might shut up the heavens so that no rain falls, or command grasshoppers to devour your crops, or send plagues among you. Then if my people who are called by my name will humble themselves and pray and seek my face and turn from their wicked ways, I will hear from heaven and will forgive their sins and restore their land.  2 Chronicles 7:13-14 (NLT)
None of us are exempt from adversity, sickness, peril, or even death. Job aptly observes that our lives are relatively short, yet full of trouble.2 In addition in Matthew 5:45, Jesus assures that both the Children of God (just) and those who are not of God (unjust) will encounter random, uniform difficulty as  long as we live on earth.
Unfortunately, it is often during our times of trouble when we doubt the Lord's goodness, presence, and protection on our behalf. But hardships do not negate God's love, grace, and mercy, nor are they signs of His desertion.
Recently, quarantine, mass testing, hording of supplies, and widespread panic have resulted from our fears concerning the coronavirus. However, in 2 Chronicles 7:14, God provides the formula to address our troubles appropriately: 1) Humble ourselves, 2) Pray, 3) Seek God's face, and 4) Turn from our sin. God is faithful and can deliver us as Psalm 34:19 (NLT) teaches, "The righteous person faces many troubles, but the LORD comes to the rescue each time."
What ever happened to prayer? In other words, why are we not calling for prayer; seeking God's help and intervention instead of wildly running into a panic mode? Why not humble ourselves, seek God, turn from our wickedness and allow Him to be God—not us—in this and every situation we face?
Jesus Christ suffered adversity on His way to Calvary's cross. But there, His death paid the price for our sin so that we can have a restored relationship with God the Father that will last forever. In the final analysis, Jesus' life, death, and resurrection help us to understand that all the things we experience will work together for our good just as Romans 8:28 teaches.
God has not abandoned us. He will give us the extraordinary resolve to count it all joy3 because our unspeakable treasure is not on the earth—it is in Heaven. Jesus assures us that in Him, we have the ultimate victory:
I have told you all this so that you may have peace in me. Here on earth you will have many trials and sorrows. But take heart, because I have overcome the world. John 16:33 (NLT)
We can be steadfast and ever vigilant in pursuit of our incorruptible inheritance because we are kept by the power of God through faith unto salvation, ready to be revealed in the last time.4 Our toils serve as constant reminders of the presence of sin in our fallen world, which contrasts God's magnificent Heaven. There, all our toil and suffering will be forgotten instantly the moment we see Jesus Christ in his full majestic splendor.
What a wonderful Savior!