For March 22, 2020
Up until a few months ago, there was much discussion about how we have the ability to manipulate the earth's environment in ways that will allow us to facilitate climate change successfully.
This was a false notion as recent events have demonstrated how our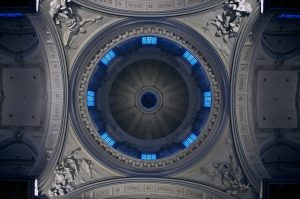 human efforts are woefully inadequate when addressing environmental, microbiological, or global life science-related issues; especially in light of the ongoing, worldwide covid-19 hysteria.
We are not the Creator, and we do not have the capacity or the means to manage God's creation. We are mere stewards over His creation. In our pride and arrogance, we've mistakenly attempted to elevate ourselves to deity with the insane notion of managing God's universe.
Yet, it has been astounding to watch how one, single, invisible, microscopic, organism can completely incapacitate 21st century civilization, as has cov-19. Instead of our eradicating the virus, we've resorted to fear, paranoia, hysteria, misinformation, "social distancing," isolation, and despair.
In other words, if we cannot control a simple virus, how can we control our atmosphere? At times we are so overwhelmed by life's unexpected uncertainties that we overlook the simple answers—right before our eyes: only the Creator can solve creation's problems.
In our hysteria, we have disregarded how Genesis 1:1 tells us that in the beginning, God created the Heavens and the Earth. We also have overlooked how Psalm 115:11 tells us to trust in the Lord because He is our helper and shield.
As our Sovereign Creator and Sustainer, God never abandoned His creation. He alone preserves and sustains the whole universe and us, just as Nehemiah 9:6 (NKJV) declares:
You alone are the Lord; You have made heaven, The heaven of heavens, with all their host, The earth and everything on it, The seas and all that is in them, And You preserve them all. The host of heaven worships You.
One theologian describes God's ability to preserve us:
Preservation is that continuous agency of God by which he maintains in existence the things he has created, together with the properties and powers with which he has endowed them. Preservation implies a natural concurrence of God in all operations of matter and of mind. Though personal beings exist and God's will is not the sole force, it is still true that, without his concurrence, no person or force can continue to exist or to act.1
God is our Sovereign Lord, Creator, and Sustainer in Whom we live, move, and have our existence as Acts 17:28 declares. His sovereignty provides us with comfort and assurance we need in our distress, because we know He cares for us and that His special preservation towards His creation cannot fail since nothing occurs or exist independent of His sovereign will.
Those of us who trust in the Lord Jesus Christ and in the vicarious merits of His  death and resurrection, which paid the price for our sin and reconciles us to God forever, are certain to experience the Lord's continual care as Matthew 10:29-31 (NIV) illustrates:
Are not two sparrows sold for a penny? Yet not one of them will fall to the ground outside your Father's care. And even the very hairs of your head are all numbered. So don't be afraid; you are worth more than many sparrows.
1 Peter 1:5 tells us that we are kept by the power of God through faith unto salvation ready to be revealed in the last time. Ultimately, our faith should never be placed in our finite human strength, because it will always be inadequate in and of itself. Instead, we must put our faith in God's almighty power and loving care, for He's got this and He's got us—now and forever!
What a Wonderful Savior!