For April 19, 2020
In the beginning, God created Adam and Eve and placed them in the Garden of Eden with everything they could ever want or need forever. In that blessed state of perfect innocence, our ancestors thrived in the company of loving, holy God.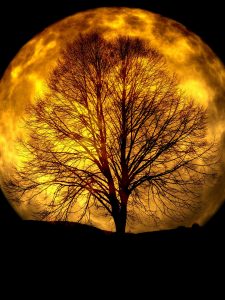 God created us in His image to have eternal fellowship with Him. As such we are distinct from everything else He created and endowed us with self-awareness, personality, and a moral consciousness or holiness.
Eternal bliss was ours as long as we obeyed one command: do not eat the fruit from the tree of the knowledge of good and evil. Genesis 2:15-17 (NLT) reads:
The LORD God placed the man in the Garden of Eden to tend and watch over it. But the LORD God warned him, "You may freely eat the fruit of every tree in the garden—except the tree of the knowledge of good and evil. If you eat its fruit, you are sure to die."
When our ancestors ate the fruit, spiritual and physical death happened just as God warned. Physical death came over time, but spiritual death happened immediately, as the entire world became sin-contaminated as Romans 5:12 (NKJV) teaches us:
Therefore, just as through one man sin entered the world, and death through sin, and thus death spread to all men, because all sinned.
We all have a sinful spiritual condition that causes us to think, speak, and act in ways that are sinful.  Sin is defined as: "A lack of conformity to the moral law of God, either in act, disposition, or state."1
We are inclined to practice sin instead of seeking after the things of God, just as the Bible teaches:
Behold, I was brought forth in iniquity, and in sin my mother conceived me. Psalm 51:5 (NKJV)
Indeed, there is no one on earth who is righteous, no one who does what is right and never sins. Ecclesiastes 7:20 (NIV)
For all have sinned and fall short of the glory of God. Romans 3:23 (NKJV)
But the natural man does not receive the things of the Spirit of God, for they are foolishness to him; nor can he know them, because they are spiritually discerned.   1 Corinthians 2:14 (NKJV)
Those of us who try to live a "good life" by doing good deeds might wonder, "How can I be a sinner? I have a moral compass demonstrated in the love, kindness, and benevolence I extend towards others."
We have a moral compass, but our sin nature often skews it in nefarious ways. Thus, to God we are sinners not because of the sins we commit. We are sinners because of the spiritually and morally depraved nature we've inherited from Adam and Eve that is always at work inside us.
The response of a holy God towards sin is wrath and eternal separation. We are the "Children of wrath" and subject to His eternal judgement and separation in a fiery Hell, where Jesus says in Mark 9:48: "The worm dies not and the fire is not quenched!"
Guilt, shame, depression, anxiety, doubt and fear are additional byproducts of this sin nature that produce a condition from which there is no human escape. In our own strength, we are helpless and hopeless—always falling short.
God's solution is found in Jesus Christ. In Whom we can have a new position and standing with God. Here, we place our faith in Jesus Christ as our personal Lord and Savior, and are Born Again as His Holy Spirit enlivens our dead spirits and lives within us forever.
Alive in Him, now, we can fulfill our life's purpose: to live abundantly as spiritually transformed and graciously redeemed Children of God's Kingdom. In addition, God bestows Jesus' righteousness on us solely because of our faith in the merits of the Lord's sacrifice at Calvary. His perfection becomes ours—by faith as Ephesians 2:4-10 (NKJV) tells us:
But God, who is rich in mercy, because of His great love with which He loved us, even when we were dead in trespasses, made us alive together with Christ (by grace you have been saved), and raised us up together, and made us sit together in the heavenly places in Christ Jesus, that in the ages to come He might show the exceeding riches of His grace in His kindness toward us in Christ Jesus. For by grace you have been saved through faith, and that not of yourselves; it is the gift of God, not of works, lest anyone should boast. For we are His workmanship, created in Christ Jesus for good works, which God prepared beforehand that we should walk in them.
Only Jesus is our perfect sacrifice for sin. As such, He is fully capable to save  "to the uttermost" all who come to God by Him, seeing He lives forever to make intercession for us as Hebrews 7:25 teaches.
We deserve is God's judgement and wrath. But through our Lord and Savior Jesus Christ, we have eternal peace and favor instead.
What a Wonderful Savior!