For April 26, 2020
On the evening before He went to the cross to pay for our sin, Jesus offered these comforting words of His abiding presence—after His departure—to His Disciples that inspire us today:
I am the vine; you are the branches. If you remain in me and I in you, you will bear much fruit; apart from me you can do nothing.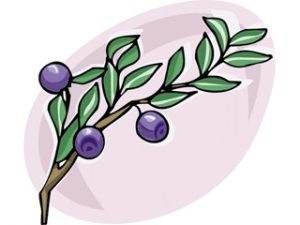 If you do not remain in me, you are like a branch that is thrown away and withers; such branches are picked up, thrown into the fire and burned. If you remain in me and my words remain in you, ask whatever you wish, and it will be done for you. This is to my Father's glory, that you bear much fruit, showing yourselves to be my disciples.      John 15:5-8 (NIV)
In Christ, we have purpose and meaning; that is when we place our faith in Jesus Christ as our personal Lord and Savior and are Born Again. His Holy Spirit enlivens our dead spirits and lives within us forever. We pass from death unto life—alive in Him. Transformed and enlivened, our main objective in this life becomes loving the Lord as we fulfill our life's purpose: to live abundantly as spiritually transformed and graciously redeemed Children of God's Kingdom.
God also bestows Jesus' righteousness on us in response to our faith in the merits of His sacrifice at Calvary. Hebrews 11:6 (NLT) teaches us:
It is impossible to please God without faith. Anyone who wants to come to him must believe that God exists and that he rewards those who sincerely seek him.
Our new relationship provides the pardon for sin, the gift of eternal life, along with every other blessing we need for this life and the next. Romans 5:1-2; 9-11 (NKJV) further teaches:
Therefore, having been justified by faith, we have peace with God through our Lord Jesus Christ, through whom also we have access by faith into this grace in which we stand, and rejoice in hope of the glory of God. Much more then, having now been justified by His blood, we shall be saved from wrath through Him. For if when we were enemies we were reconciled to God through the death of His Son, much more, having been reconciled, we shall be saved by His life. And not only that, but we also rejoice in God through our Lord Jesus Christ, through whom we have now received the reconciliation.
We have peace with God through our Lord Jesus Christ because of His mediation as Son of Man. Only Jesus, who was sin-less, had the right standing to satisfy all the righteous requirements imposed by God. As the only begotten Son of God, Jesus Christ served as God's perfect representative before a sin-cursed world since He was totally God in human flesh. In other words, as both the Son of Man and the Son of God, Jesus Christ is fully capable of representing all humanity before a holy God and a holy God before all humanity.
Peace with God means we no longer live in guilt and shame because all our sins—past, present, and future—have been forgiven and forgotten. Peace with God through Christ also means we are poised to experience peace with others since the Prince of Peace lives within us.
Also, we are made righteous by the blood of Jesus Christ. Romans 6:23 tells us that the payment for sin is death. Someone had to die, and blood had to be shed to remediate our sin. Leviticus 17:11 teaches:
For the life of the flesh is in the blood, and I have given it to you upon the altar to make atonement for your souls; for it is the blood that makes atonement for the soul.
Although God gave Moses instructions on how animal blood would pay for our sin, it was not a permanent fix and had to be repeated. Instead, it foreshadowed a lasting restitution through Jesus Christ, which would wash away our sins, make us righteous before God, and restore our lost fellowship with God permanently.
In addition, we are saved from wrath through Jesus Christ. Jesus Christ is our Great High Priest, in whom our forgiveness of sin is secured. Before His arrival, no person forgave sin but God. Yet, Jesus forgives our sin so that we stand before God as righteous. John the Baptist rightly referred to Jesus as: "The Lamb of God who takes away the sin of the world!"1
Only Jesus is our perfect sacrifice for sin. As such, He is able to save us "to the uttermost" all who come to God by Him, seeing He lives forever to make intercession for us, just as Hebrews 7:25 teaches.
What a Wonderful Savior!