For August 16, 2020
In their futile attempt to disprove that Jesus Christ was both God and man, naysayers argue we cannot rely on what Jesus Christ did and still does for fallen humanity to redeem us. In short, we need more than Jesus Christ to earn God's favor.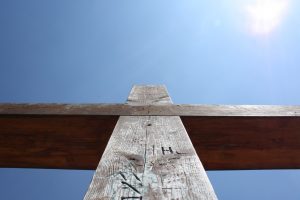 My reply is, "I know whom I have believed, and am persuaded that He is able to keep that which I have committed unto Him against that day" (2 Timothy 1:12 AKJV).
I trust the Lord and His leadership because He did not say He was one of many ways to God. Instead, He insisted that He was the only way to God,
"I am the way, the truth, and the life: no man cometh unto the Father, but by me" (John 14:6 AKJV).
Jesus Christ could make these bold assertions because He was the Son of God (God) and the Son of Man (human). He stated Abraham rejoiced to see His day and said, "before Abraham was, I AM." He was the Seed of the Woman promised to Abraham, through whom the entire human race would greatly benefit (Genesis 3:15; 12:1–3).
Yet He was God's Suffering Servant, who paid the price for our sins so that we can be forgiven and redeemed before God, as Isaiah foretells, "All we like sheep have gone astray; we have turned everyone to His own way; and the LORD hath laid on Him the iniquity of us all" (Isaiah 53:6 AKJV). As the Good Shepherd, His vicarious death imparts new, abundant life to His precious sheep just as He promised,
"The thief cometh not, but for to steal, and to kill, and to destroy: I am come that they might have life, and that they might have it more abundantly" (John 10:10 AKJV).
Our Lord's simple mission and message was distinct from anything the world had seen or heard before,
Verily, verily, I say unto thee, Except a man be born again, He cannot see the kingdom of God…Thou shalt love the Lord thy God with all thy heart, and with all thy soul, and with all thy mind. This is the first and great commandment. And the second is like unto it, Thou shalt love thy neighbour as thyself (John 3:3, Matthew 22:37-40 AKJV).
Peter expounded on these new and radical ideals when He answered the naysayers of his day, "For there is none other name under heaven given among men, whereby we must be saved" (Acts 4:12 AKJV).
Thus, in the final analysis, absolute safekeeping is ours through Jesus Christ who died for our sins and rose for our Justification (Romans 4:25). By our faith in Him alone, we can understand and acknowledge Him as more than just a person who suffered a tragic death on a cross because we also know Him as our:
Advocate, Alpha and Omega, Bread of Life, Bridegroom, Christ, Deliverer, Faithful and True, Friend, Good Shepherd, Great God, Great Physician, High Priest, Immanuel, Intercessor, King of Glory, King of Kings, Lamb of God, Light of the World, Lion of Judah, Lord, Lover of Our Soul, Mighty God, Mediator, Messiah, Prince of Peace, Redeemer, Resurrection and Life, Righteous Judge, Rock and Fortress, Savior, True Prophet, The Truth, The Way, and The Word of God.
Having fulfilled His redemptive work as the Son of Man and Son of God, Jesus Christ is the only way we today can have our sins forgiven and have fellowship with God forever. Won't you trust in Him today?
What a Wonderful Savior!