For September 6, 2020
On His way to the cross, Jesus intercedes for all those who will follow Him,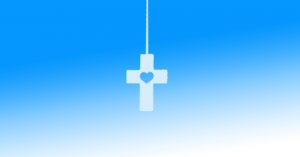 I am praying not only for these disciples but also for all who will ever believe in me through their message. I pray that they will all be one, just as you and I are one—as you are in me, Father, and I am in you. And may they be in us so that the world will believe you sent me. I have given them the glory you gave me, so they may be one as we are one. I am in them and you are in me. May they experience such perfect unity that the world will know that you sent me and that you love them as much as you love me. Father, I want these whom you have given me to be with me where I am. Then they can see all the glory you gave me because you loved me even before the world began! "O righteous Father, the world doesn't know you, but I do; and these disciples know you sent me. I have revealed you to them, and I will continue to do so. Then your love for me will be in them, and I will be in them (John 17:20-26 NIV).
Jesus' prayer ensures that as Christians together, we will experience exciting and fulfilling moments to enhance our knowledge and strengthen our faith. We experience how God loves us, protects us, and provides us with everything we need. Over time, we grow confident that He directs our steps, and that He will never leave or forsake us.
These experiences help to solidify our faith in God and in His Word so that we grow to rely on His eternal promises and providence instead of our subjective thoughts and feelings.
For instance, we can be confident that our faith in His redeeming sacrifice will grant us the forgiveness of sin and make us new creatures (2 Corinthians 5:17)
Nevertheless, some believe that experiencing a flawed past somehow validates our Christian life and witness. This could be based on the popular notion that we are more effective in ministry after having lived tragic lives of sin before coming to Christ. Although it is always appropriate to celebrate the life that we now have in Christ, ministry effectiveness is up to God.
All Christians should have a support and accountability network to help guard against moral and spiritual failure. However, those who have experienced years of compulsive and addictive behavior should complete some form of clinical treatment in conjunction with their Christian discipleship program before serving in Christian leadership. Such precautions will help lessen the risk of harm or not placing others at risk of severe spiritual, physical, emotional, or psychological injury.
Moreover, there are those who feel that numerical growth, monetary gain, large edifices and notoriety are the indicators for effective ministry. However, three essential indicators, our hearts, our motives, and God's perfect will, are ignored. The Lord knows whether our hearts and motives are vile or pure, and His will is revealed accordingly. These indicators will always define ministry effectiveness from His perspective, which is all that matters.
The Bible presents a pattern of fruitful relationships with the Lord that begin early and last through life. Many of us have followed this pattern by coming to Christ early, learning God's Word, attending church, submitting to spiritually mature mentors and pastors in discipleship, and using our gifts in service are living demonstrations of His miraculous power.
We strive grow in grace and in the knowledge of our Lord and Savior Jesus Christ (2 Peter 3:18), so that we can share God's Word properly. Then, He can attract, convict, convince, and inspire others unto right thinking and living. In this way, we present His righteousness, grace, and love through our worship, service, and fellowship.
In other words, we sanctify the Lord God in our hearts. Then we can offer a timely response to those who ask us about the unfailing hope within us, with meekness and godly reverence (1 Peter 3:15). Won't you experience the fullness of His intercession today?
What a Wonderful Savior!