For August 30, 2020
This earth is not our final destination. The Bible tells us we are mere pilgrims and strangers traveling through it. For some, the journey may be thirty years or less while others exceed the seventy-year benchmark given in Psalm 90:10. Whatever time we have, Job 14:5 tells us the Lord has determined the exact day and time of our death.
But while we await our departure, the Lord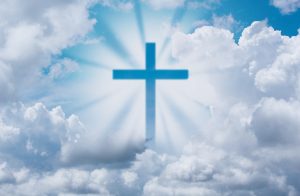 has promised everlasting communion with both He, and the Father through the Spirit. Before going to the cross, He comforts us with His promise to return,
Don't let your hearts be troubled. Trust in God, and trust also in me. There is more than enough room in my Father's home. If this were not so, would I have told you that I am going to prepare a place for you? When everything is ready, I will come and get you, so that you will always be with me where I am (John 14:1-3 NLT).
Our sin separates us from God. However, the good news or Gospel is that God can change our governing disposition from vile and sinful to pure and holy, through the Born Again experience (Regeneration) as one observes,
"Regeneration is that act of God by which the governing disposition of the soul is made holy…It is God turning the soul to Himself."1
Jesus says He was sent into the world not to condemn it, but to save it (John 3:17). Then just before the Ascension, He reassures us He would be with us forever (Matthew 28:20). His is an intimate, communion that lasts forever. For in Christ, we have the Comforter who gently comforts, helps, guides, teaches, and secures us until we inhabit our eternal home (John 16:7-15).
The Lord is with you before you were born; shaping you in your mother's womb; planning your bright hope and expected end that will inspire others and bring honor to the Lord Jesus Christ (Jeremiah 29:11).
The Lord is with you, and each day you understand even more how your experiences with Him on earth are merely a foretaste of the eternal life that awaits you in His glorious Kingdom. The Lord is with you, and your faith begins and ends with Him.
He is your hope, peace, expectation, your sun and shield, and your exceeding great reward (Genesis 15:1). He gives you "grace and glory, and no good thing will He withhold from you as you walk uprightly" (Psalm 84:11).
Our Lord provides the foundation on which our being, position, choices, and destiny are secured forever. For this reason, 2 Corinthians 5:7 states "we walk with the Lord daily by faith, and not by sight." With a humble, reverent, and sincere faith in Jesus Christ, we are certain to reach our glorious final destination.
God is with us now, and He will be with us as we experience the pinnacle of His redemptive work of Glorification, where "the wicked cease from troubling, and the weary will be at rest" (Job 3:17).
He will supply us with an immortal body that will allow us to experience His holy, eternal presence fully. Free from sin, pain, and disease, we will be completely capable of having eternal communion with God as we see Him "as He is" and are like Him (1 John 3:2). Won't you trust Him today?
What a Wonderful Savior!