For October 25, 2020
Scripture Text: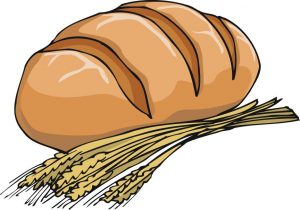 Elisha replied, "Listen to this message from the LORD! This is what the LORD says: By this time tomorrow in the markets of Samaria, six quarts of choice flour will cost only one piece of silver, and twelve quarts of barley grain will cost only one piece of silver." The officer assisting the king said to the man of God, "That couldn't   happen even if the LORD opened the windows of heaven!" But Elisha replied, "You will see it happen with your own eyes, but you won't be able to eat any of it!" (2 Kings 7:1-2 NLT)
The Old Testament book of Second Kings presents the final three-hundred years of the divided Hebrew kingdoms, Israel and Judah. The ever-worsening spiritual climate of apostasy proved to be the downfall of both kingdoms (Samaria in 722 BC and Jerusalem in 586 BC).
The events of this Scripture passage occur some eight-hundred years before Jesus. Here, Elisha serves as prophet to the Northern Kingdom, Israel during the reign of Jehoram, the son of Ahab and Jezebel.
Benhadad, the king of Syria has made several border raids in attempts to capture the king and defeat his armies. But God thwarted every attempt to imperil Israel though Elisha, who warned the Jehoram of the secret ambushes Benhadad planned—even in the privacy of "his bedchamber" (2 Kings 6:12).
Now desiring to capture Elisha, the Man of God, Benhadad sent a great host of warriors with chariots and horses to surround the city of Dothan. When Elisha's porter saw the army surrounding the city with horses and chariots, He cried to Elisha: "Alas, my master! What shall we do?"
Elisha comforts his porter, and us today, with words that have become a very familiar passage of Scripture:
"Do not fear, for those who are with us are more than those who are with them!" 2 Kings 6:16 (NKJV)
This same idea is also conveyed in 1 John 4:4: "You are of God, little children, and have overcome them, because greater is He who is in you than he who is in the world."
Elisha prays for the Lord to open his porter's eyes, and the porter sees the entire mountain filled with horses and chariots of fire around Elisha. Then, Elisha prays for the Lord to blind the Syrian army, and he leads the helpless army into Samaria where they are treated to a banquet and sent home.
Undaunted, Benhadad later returns to Samaria with his Syrian forces to lay siege to the city. And after three years, so desperate were the conditions that two starving mothers resorted to cannibalism (cooking and eating a child: cf. 2 Kings 6:29).
In total despair, Jehoram challenges Elisha to explain why they should continue Jehovah worship in light of their extreme suffering. Then, Elisha reassures them that God says that "by this time tomorrow," food would be purchased for "pennies on the dollar" in downtown Samaria. When one of the officers argued how such would be impossible—even if the Lord "opened the windows of heaven," Elisha told the officer that he would see it, but would not taste it.
Here, three things are clear:
The Children of Israel Stray into Idolatry, and they Fall into Apostasy (breaking the 1st and 2nd of the Ten Commandments).
I am the Lord your God, who brought you out of the land of Egypt, out of the house of bondage. You shall have no other gods before Me. You shall not make for yourself a carved image—any likeness of anything that is in heaven above, or that is in the earth beneath, or that is in the water under the earth; you shall not bow down to them nor serve them. For I, the Lord  your God, am a jealous God, visiting the iniquity of the fathers upon the children to the third and fourth generations of those who hate Me, but showing mercy to thousands, to those who love Me and keep My commandments (Exodus 20:2—6 NLT).
So on the advice of his counselors, the king (Jeroboam I) made two gold calves. He said to the people, "It is too much trouble for you to worship in Jerusalem. Look, Israel, these are the gods who brought you out of Egypt!" He placed these calf idols in Bethel and in Dan—at either end of his kingdom. But this became a great sin, for the people worshiped the idols (1 Kings 12: 28—29 NLT).
Jehoram, to his credit, was not as evil and ruthless as his parents, and he removed the pagan shrine that his father Ahab made. However, he did not remove the golden calves that Jeroboam had made for Israel sin (2 Kings 3:1—3).
2. God's Wayward Children May Stray at Times, Yet He Still Provides for Them.
Elisha's message from the Lord was simply: "By this time tomorrow in the markets of Samaria, six quarts of choice flour will cost only one piece of silver, and twelve quarts of barley grain will cost only one piece of silver" (2 Kings 7:1 NLT).
That evening, the Lord uses four lepers to notify the city gatekeepers of the deserted Syrian camp rich with spoil and an abundant food supply. (The Lord sent the sound of chariots and horses to frighten the Syrians into abandoning the camp, for fear of capture from the Hittites and Egyptians.)
The king sent officials to confirm the lepers' story, and they reported their findings to the king, and an abundant supply of food was made available to the people. The criticizing officer, who was assigned to crowd control at the city gate was trampled to death by the mass of people running to get the ample supply of food.
3. The Lord Loves Us, and He Will Answer Our Prayer and Supply Our Need!
God is no respecter of persons. What He's promised, He will do! Here's what the Lord promises us today:
Keep on asking, and you will receive what you ask for. Keep on seeking, and you will find. Keep on knocking, and the door will be opened to you. For everyone who asks, receives. Everyone who seeks, finds. And to everyone who knocks, the door will be opened. You parents—if your children ask for a loaf of bread, do you give them a stone instead? Or if they ask for a fish, do you give them a snake? Of course not! So if you sinful people know how to give good gifts to your children, how much more will your heavenly Father give good gifts to those who ask him (Matthew 7:7—11 NLT).
You haven't done this before. Ask, using my name, and you will receive, and you will have abundant joy (John 16:24 NLT).
Don't worry about anything; instead, pray about everything. Tell God what you need, and thank him for all he has done. Then you will experience God's peace, which exceeds anything we can understand. His peace will guard your hearts and minds as you live in Christ Jesus (Philippians 4:6—7 NLT).
And this same God who takes care of me will supply all your needs from his glorious riches, which have been given to us in Christ Jesus (Philippians 4:19 NLT).
This does not mean we can "name it and claim it!" But it does mean the Lord is our Good Shepherd, and we shall not want for anything (Psalm 23:1). The Lord will answer our prayer and supply our need. But, our motives and intent must be pure; consistent with His will and purpose for our lives.
You do not have because you do not ask God. When you ask, you do not receive, because you ask with wrong motives, that you may spend what you get on your pleasures (James 4:2—3 NIV).
The Lord wants us to be at peace, because as one writer observes, "When the need is greatest, God is nearest."1 We need not worry or fret, because He knows all about us—and our situation. The Lord is faithful to meet—not our wants—but all our needs; for He is not only our Lord, and Savior; He is our "Friend who is closer than a brother" (Proverbs 18:24).
What A Friend We Have In Jesus 2
Joseph Scriven (1819-1886)
What a Friend we have in Jesus, All our sins and griefs to bear!
What a privilege to carry Everything to God in prayer!
O what peace we often forfeit,  O what needless pain we bear,
All because we do not carry Everything to God in prayer!
Have we trials and temptations? Is there trouble anywhere?
We should never be discouraged— Take it to the Lord in prayer.
Can we find a friend so faithful Who will all our sorrows share?
Jesus knows our every weakness— Take it to the Lord in prayer.
Are we weak and heavy-laden, Cumbered with a load of care?
Precious Savior, still our refuge— Take it to the Lord in prayer;
Do thy friends despise, forsake thee? Take it to the Lord in prayer;
In His arms He'll take and shield thee— Thou wilt find a solace there.
The Lord is faithful. He will safeguard His precious children and will attend to our every need. Won't you trust in Him today?
What a Wonderful Savior!
Karl Christian W. F. Bahr, "The Books of the Kings," John Peter Lange, Commentary on the Holy Scriptures: Critical, Doctrinal and Homiletical, trans., W. G. Sumner, new ed., 7th printing, vol. 3, (Grand Rapids: Zondervan Publishing House, 1980) 77.