For December 6, 2020
Unfortunately, we live in an age where forgiveness is becoming an increasingly rare, precious commodity—desired by all of us, while practiced by very few of us.
Unforgiveness along with its menacing co-conspirators, guilt and shame,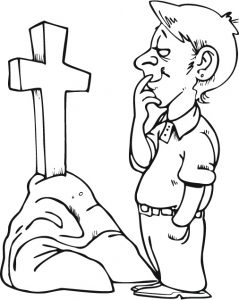 continue to prevent us from experiencing the optimal, ever-abundant lifestyle our Lord purposed each of us to enjoy daily.
Our floundering is self-inflicted. The Lord identifies Himself as our Mighty Avenger in Deuteronomy 32:35 (NLT), "I will take revenge; I will pay them back." However, we attempt to usurp His authority by seeking to avenge, harboring grudges, and otherwise expressing ill will toward those whom we feel may have wronged us.
Those people "who knew us back when…," our Enemy (Devil), and our own consciences draw from those painful and unflattering past experiences to remind us how imperfect we are; even to the point of convincing us that we are worthless and can never be forgiven—not even by our loving and merciful God.
We should consider how all of us are very precious in God's sight and seek to forgive and to be forgiven. For in Christ, our past is immaterial, erased, and forgotten by Calvary's Cross, "He canceled the record of the charges against us and took it away by nailing it to the cross" (Colossians 2:14 NLT). All of us can benefit from receiving such a "clean slate."
The Lord knows us better than we know ourselves. He is aware of those painful past events few if any are aware of, and yet He loves us and forgives us completely. The Bible teaches the payment for sin is death (Romans 6:23). Someone had to die and shed blood to remediate sin,
For the life of the flesh is in the blood, and I have given it to you upon the altar to make atonement for your souls; for it is the blood that makes atonement for the soul (Leviticus 17:11 NKJV).
Before Christ, God provided for the sacrifice of animals to temporarily remediate sin, which foreshadowed a more efficacious restitution that would completely wash away our sins, make us righteous before God, and restore our lost fellowship with God forever.
A wonderful illustration of our permanent Atonement is presented in the Suffering Servant model found in Isaiah 53:4-6 (NKJV):
Surely He has borne our griefs and carried our sorrows; Yet we esteemed Him stricken, Smitten by God, and afflicted. But He was wounded for our transgressions, He was bruised for our iniquities; The chastisement for our peace was upon Him, And by His stripes we are healed. All we like sheep have gone astray; We have turned, every one, to his own way; And the Lord has laid on Him the iniquity of us all.
Chapter 9 of Matthew's Gospel relates how when devoted friends brought a paralyzed man to Jesus for healing, Jesus says in verse 2 (NLT), "Be encouraged, my child! Your sins are forgiven." Then Jesus goes on to declare in verse 6 (NLT): "'So I will prove to you that the Son of Man has the authority on earth to forgive sins.' Then Jesus turned to the paralyzed man and said, 'Stand up, pick up your mat, and go home.'"
Until this time, no person would dare to claim they could forgive sin because only God had the power and the authority to do so. Yet, Jesus insists that He forgives our sin.
He is so empowered and authorized because He satisfies all the statutes of the Old Testament Law, and as did the Suffering Servant, He offers Himself as the perfect sacrifice for sin—past, present, and future.
Jesus Christ is our Eternal Prophet, whose life and teaching give us moral and spiritual direction as Moses foretold in Deuteronomy 18:15-22. The Bible, which contains His teachings, is our perfect guide to living in this New Testament Age. As we read, study, memorize, and apply its principles to our lives, we grow into His productive people of faith and grace.
Jesus is also our Almighty King, who governs our hearts and minds through His Holy Spirit (and His Word). We love Him, willingly surrender to Him, faithfully serve His church, and minister to those He describes as the "least of these" (Matthew 25:34-40). He is our Sovereign Lord, and we are subjects of His eternal Kingdom. He is the focal point of our love and gratitude as well as the "author and finisher" of our faith (Hebrews 12:2).
But even more, He is our Great High Priest, in whom we have the forgiveness of sin, because  He redeemed us by paying sin's price Himself,
Unlike those other high priests, he does not need to offer sacrifices every day. They did this for their own sins first and then for the sins of the people. But Jesus did this once for all when he offered himself as the sacrifice for the people's sins. The law appointed high priests who were limited by human weakness. But after the law was given, God appointed his Son with an oath, and his Son has been made the perfect High Priest forever (Hebrews 7:27—28 NLT).
Jesus' sacrificial death covers sin because He is the Lamb of God who takes away the sins of the world (John 1:29). By fulfilling these attributes, He is fully capable of saving "to the uttermost" all those who come to God by Him, seeing He lives forever to make intercession for us (Hebrews 7:25).
Can my sins be forgiven…really? Most assuredly, and most emphatically—YES!
What a Wonderful Savior!