For July 18, 20211
The Lord then tells how certain dramatic spiritual changes will verify our union with Him as well as the condition of our hearts toward Him,
If you love Me, keep My commandments. And I will pray the Father, and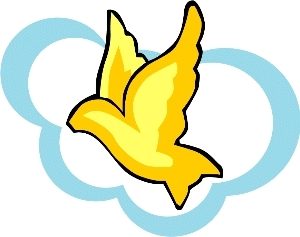 He will give you another Helper, that He may abide with you forever—the Spirit of truth, whom the world cannot receive, because it neither sees Him nor knows Him; but you know Him, for He dwells with you and will be in you. I will not leave you orphans; I will come to you…But the Helper, the Holy Spirit, whom the Father will send in My name, He will teach you all things, and bring to your remembrance all things that I said to you (John 14:15-18, 26 NKJV).
Jesus' Followers will love Him and adhere to His commandments. Thus, His standards for moral and spiritual living are not for our selective "picking and choosing." We obey them because we love Him and desire to please Him.
In His human form, our Lord Jesus Christ could not be in more than one place at one time. The Helper ensures that everyone can experience the fullness of Christ around the world simultaneously,
[The Helper] makes it possible for Him to be united to, and to be present in each Believer, as perfectly and fully as if that Believer were the only one to receive Christ's fullness. Each Believer has the whole Christ with him as his source of strength, purity, life; so that each may say: Christ gives all His time and wisdom and care to me. Such a union as this lacks every element of instability. Once formed, the union is indissoluble. Many of the ties of earth are rudely broken—not so with our union with Christ—that endures forever. Since there is now an unchangeable and divine element in us, our salvation depends no longer upon our unstable wills, but upon Christ's purpose and power.2
Parakleteos (Strong-G3875) is the Greek word for our Helper and Advocate. It combines two Greek words, para (Strong-G3844) and kaleo (Strong-2564). Para means to "come alongside," and kaleo means to "call or summon."3
The Helper comes alongside to be our duly appointed representative of Jesus Christ. Only He can fulfill all the rights, privileges, and responsibilities appertaining thereto.
As our Comforter, He "seals" our reclamation to secure our heavenly home (Ephesians 4:30). Here, He keeps our thoughts and desires focused on yesterday's redemption, today's salvation, and tomorrow's bliss through Christ.
As our Advocate, He is our perfect guide to give us direction, purpose, and meaning as Almighty God in Spirit. As the Holy Spirit, He purifies, strengthens, encourages, reveals, and keeps us forever.
He is also our Teacher, who brings to our minds those precious and unforgettable teachings that reinforce how wonderful our Lord continues to be,
Come to me, all of you who are weary and carry heavy burdens, and I will give you rest. Take my yoke upon you. Let me teach you, because I am humble and gentle at heart, and you will find rest for your souls. For my yoke is easy to bear, and the burden I give you is light (Matthew 11:28-30 NLT).
The Holy Spirit has not for the world, but for Followers of Christ exclusively. He cannot live inside those who reject God's love and forgiveness through Christ. Sin-skewed, temporal minds will never appreciate our Lord's presence, power, and wonderful spiritual blessings (1 Corinthians 2:14).
For we who know Christ and await His glorious appearing (2 Timothy 4:8), and possessed by God's almighty, Holy Spirit who continues our Lord's perfect work inside us—to answer our every question, solve our every problem, and supply our every need…if we yield to Him as the Bible teaches,
Trust in the LORD with all your heart; do not depend on your own understanding. Seek his will in all you do, and he will show you which path to take (Proverbs 3:5-6 NLT)
Won't you trust in Him today?  What a Wonderful Savior!