For July 25, 2021
Our obsession with wealth, power, and influence is baffling; especially when we covet and pursue them when they are ephemeral and short-lived. Our human existence is fleeting with a shelf-life—for most of us—of less than one hundred years at best.
Nevertheless, we dedicate our lives to the acquisition of the bigger, newer, better, faster, and best thing we can get…often at the expense of others, as if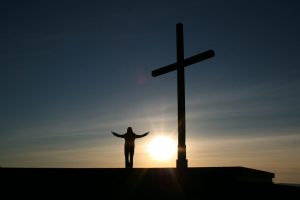 those things we "lie, cheat and steal for" will last forever. Self-serving, self-fulfillment has become our modern-day obsession. However, the irony is that even if we were to possess all the wealth, power, and influence in the world, we would yet experience disenchantment because our transcendent spiritual dimension was grossly ignored and/or overlooked in the process of aquisition.
We yearn for eternal happiness and fulfillment in a world where there is no pain, sorrow, or disease and where all our wants, needs, and desires are satisfied completely. There with loving friends and family, perfect innocence, peace, tranquility, and safety abound, yielding a lasting, unabated, and complete satisfaction.
Before sin contaminated our world and everything in it, a blissful eternity was ours forever. But our ancestors' disobedience, (a trait that we yet practice today), precipitated sin's universal domination over our thoughts, words, and actions. As a result we are spiritually dead; certain to experience physical death, and are forever separated from our holy God.
God created us to be without sin to live forever in His perfect world. But because of sin, our world is full of sadness, pain, disease, trouble, and death. In other words, it is our nature to sin and die. (See: Romans 3:23, 5:14, and 6:23)
This fallen spiritual condition influences toddlers to defy their parents, while tempting teenagers to commit brutal murder and encouraging adults to commit unconscionable atrocities. Those who perform good deeds might ask, "How can I be a sinner?" We are sinners not because of our evil deeds. Our evil deeds reflect the spiritually flawed inner nature at work inside us at all times.
In our efforts, we cannot obtain fellowship with our holy God because He never fell from perfection; we did, and our tarnished nature offends Him. God is very particular about whom He "hangs out" with. It should be no surprise that His "no riffraff" policy remains today.
In our strength alone, we are helplessly and hopelessly in need of a Savior who can restore our fellowship with God. Unlike every human before Him or after Him, Jesus Christ was without sin, fully aware that His death would redeem fallen humanity and restore our loving, fellowship with God forever,
Therefore, as through one man's offense judgment came to all men, resulting in condemnation, even so through one Man's righteous act the free gift came to all men, resulting in justification of life. For as by one man's disobedience many were made sinners, so also by one Man's obedience many will be made righteous (Romans 5:18-19 NKJV).
Here is how Jesus puts it,
For God so loved the world that he gave his one and only Son, that whoever believes in him shall not perish but have eternal life. For God did not send his Son into the world to condemn the world, but to save the world through him. (John 3:16-17 NIV)
All of us will have to account for our sinful behavior before our Creator. Why not stand before Him in total reliance on Jesus' perfect righteousness instead of our flawed self-righteousness,
Therefore, there is now no condemnation for those who are in Christ Jesus, because through Christ Jesus the law of the Spirit who gives life has set you free from the law of sin and death. For what the law was powerless to do because it was weakened by the flesh, God did by sending His own Son in the likeness of sinful flesh to be a sin offering. And so he condemned sin in the flesh, in order that the righteous requirement of the law might be fully met in us, who do not live according to the flesh but according to the Spirit.  (Romans 8:1-4 NIV)
Jesus chose to redeem all of us, despite our sin nature, allowing us to embody His righteousness before God. He freely provides this for us not based on our sin-tainted "good deeds," but by our faith in His perfect, redemptive deeds performed at Calvary's Cross. Thus, to the Christian, our "good deeds" signify the presence of God's Holy Spirit at work within us, after we've surrendered our lives to Christ; not our vain attempts to "earn" salvation.
Because of Jesus' resurrection, God's amazing grace, abundant mercy, and enduring, all-encompassing love remain available to all of us today,
Then Jesus said, "Come to me, all of you who are weary and carry heavy burdens, and I will give you rest. Take my yoke upon you. Let me teach you, because I am humble and gentle at heart, and you will find rest for your souls. For my yoke is easy to bear, and the burden I give you is light." (Matthew 11:28-30 NIV).
Jesus Christ is the answer to our questions and the solution to our problems. Those of us who accept Him as our personal Lord and Savior will experience the abundant, spiritually fulfilling life He guarantees us today, as well as the blissful eternity He secures for us tomorrow. Won't you trust in Him today?
What a Wonderful Savior!