For September 12, 2021
Jesus Disciples' levels of perplexity, anxiety, and uncertainty must have been extreme as the Lord spoke that evening on their way to Gethsemane. Jesus was fully aware of Judas' plot to betray Him, the Disciples' abandonment and denials, the religious leaders' disgraceful, mock trial, and His humiliating public execution.
The Disciples were oblivious to these facts and were bewildered because their Lord informed them He was leaving and would return later. He also told them about the coming Helper, but they were not sure when He would arrive—or how. They had no idea what would become of their faith movement after Jesus' departure, or who would lead it.
Then the Lord told them something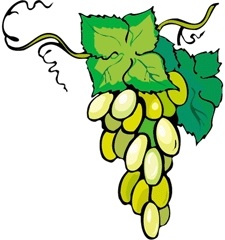 that must have seemed even more baffling,
I am the true vine, and My Father is the vinedresser. Every branch in Me that does not bear fruit He takes away; and every branch that bears fruit He prunes, that it may bear more fruit. You are already clean because of the word which I have spoken to you. Abide in Me, and I in you. As the branch cannot bear fruit of itself, unless it abides in the vine, neither can you, unless you abide in Me. I am the vine, you are the branches. He who abides in Me, and I in him, bears much fruit; for without Me you can do nothing. John 15:1-5 (NKJV)
Jesus identifies Himself as the True Vine, the authentic and legitimate "real deal." Before Him, were imitators, and after Him, pretenders. In other words, He is the stalk, and we are fruit-producing branches proceeding from Him. We are rooted in Him, and without Him, we will wither and die.
Jesus alone is the source of our life and purpose. Because of our association, we can have access to all the spiritual, life-giving resources He has at His disposal. He alone is the object of our faith, the essence of our spiritual life, and the realization of all our future hopes and desires,
As God's natural life is in the vine, Christ, that He may give life to His spiritual branches. The roots of this new vine are planted in Heaven, not on earth; and unto it, the half-withered branches of the old humanity are to be grafted, that they may have life divine. Our Lord does not say, "I am the root." The branch is not something outside, which has to get nourishment out of the root. It is rather a part of the vine. Not only grounded in Christ as our foundation, but thrusting down root into Him as the deep, rich, all-sustaining soil.1
Abiding in the True Vine necessitates our complete surrender so that the Helper inside us can foster our consecrated, Christ-likeness,
I have been crucified with Christ and I no longer live, but Christ lives in me. The life I now live in the body, I live by faith in the Son of God, who loved me and gave himself for me. Galatians 2:20 (NIV)
Crucified with Christ may appear strange at first glance, but it's not. Christ is our identity; we draw our strength from Him. He is our life and power to perform godly activities that honor Him; activities our old nature protests and resists—vehemently.
Our Father's pruning is required for successful fruit-bearing. The Greek word for pruning is kathairo (Strong-G2508), to cut away the undesirable and unfruitful parts, to cleanse from filth, to prune or eliminate that which is fruitless, or to purify.2
Romans 8:1 tells us that we face no condemnation in Christ as we walk and live surrendered to His Spirit, our Helper.  Our purging is of the Father in the whole process of our "removing temptations and afflictions."3 This is our sanctification.
As we walk in His Spirit, we can experience the "power of Jesus' resurrection and fellowship in His suffering;" in order to mortify the flesh and conform to His righteousness in living as Philippians 3:10 teaches.
We bear fruit by striving toward spiritual perfection through fasting4, prayer, reading and studying God's Word (Bible), attending church regularly, and Christian service.
Ultimately, as we yield to the Holy Spirit's work within us, we conform to the image and likeness of Christ. This was true for the Disciples then, and it is true for us today. Won't you surrender to Jesus Christ, The Vine and become a fruit bearing branch for His grace, forgiveness, and love today?
What a Wonderful Savior!