For December 5, 2021
There is an account of the Christmas Story found in the second chapter of Luke's Gospel. The first seven verses in the New Kings James read (my emphasis),
And it came to pass in those days that a decree went out from Caesar Augustus that all the world should be registered. This census first took place while Quirinius was governing Syria. So all went to be registered,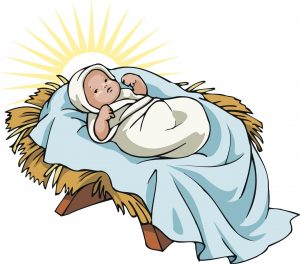 everyone to his own city. Joseph also went up from Galilee, out of the city of Nazareth, into Judea, to the city of David, which is called Bethlehem, because he was of the house and lineage of David, to be registered with Mary, his betrothed wife, who was with child. So it was, that while they were there, the days were completed for her to be delivered. And she brought forth her firstborn Son, and wrapped Him in swaddling cloths, and laid Him in a manger, because there was no room for them in the inn.
Even during Thanksgiving week, merchants heighten their promotional campaigns to prepare for special Christmas Seasonal sales. Hotels offer discounted rates for post–Thanksgiving occupancy to compensate for the winter offseason period.
But for the Savior of the world, which caused the Heavenly Host to exclaim: "Glory to God in the highest, and on earth peace, goodwill toward men!"  (Luke 2:14 NKJV), there is yet no room—even for His own birthday!
The name of Jesus Christ, along with its variations, is being removed from public discourse. Public schools, colleges, and many corporations have chosen to call Christmas—the day designated to celebrate the birth of Jesus Christ—to "Winter Break;" but for what purpose? Celebrated persons have been given designated dates to honor their births. Why not Jesus Christ on Christmas?
Luke tells of two weary travelers, Joseph and Mary, who are on their way to Bethlehem to register for the Roman census. But when they arrive, Mary delivers her firstborn son in an animal stable. She wraps Him in rags, and she places him in an animal feeding trough (manger) because of the lack of hotel accommodations—even for an expectant mother.
Usually when dignitaries travel with an entourage, appropriate accommodations are provided. But no room was available for the King of Kings and Lord of Lords or for His entourage, Joseph and Mary.
A crowded Bethlehem suffered a temporary housing shortage due to the census overcrowding. Yet, no room reveals our obsession with coddling those who are "high profile." This obsession can lead us to adopting a standard where the whims of celebrated personalities become more authoritative than the Bible.
1 Corinthians 1:26-31 tells us that there are not many wise, mighty or noble who will welcome our Lord. Thus, God has chosen the foolish, weak, lowborn, and nothing to refute the wise, mighty, insignificant, and the things that are. In this way, Lord is at the center of all boasting.
The Lord can use celebrated persons to further His cause. These influential people use their resources and influence to lead people to Christ and demonstrate a vibrant, sincere faith in the Lord in the process. It was a very wealthy and influential Joseph of Arimathea who provided his personal burial tomb for Jesus; an empty tomb where we celebrate His resurrection nearly two-thousand years later.
On the other hand, it would be total negligence not to recognize the silent army of Christians who continue to serve the Lord faithfully in places deemed small, worthless or insignificant by the world. These people are significant because the Lord uses them to help transform lives—often without fanfare.
For all those unsung Christian heroes and heroines who continue to labor without recognition, be of good cheer. There was no room for our Lord and Savior either. But as Galatians 6:9 (NLT) tells us, we will reap a harvest of blessing if we don't give up.
Let us choose to make room for our Lord and Savior in our hearts first and foremost. Then let us honor the day of His birth: Christmas and seek to mention His name in all phases of our public and private discourses around the world. Then when He returns to take us home, He will welcome us with a hearty well done! Won't you give Him room today?
What a Wonderful Savior!