For March 29, 2020
There was much excitement among the hundreds of thousands of freed Israelites who camped by the Red Sea. They were celebrating their sudden and unexpected release from 400 years of Egyptian bondage. Their first Passover resulted in the deaths of every firstborn in Egypt, which prompted the immediate expulsion of all Hebrew slaves.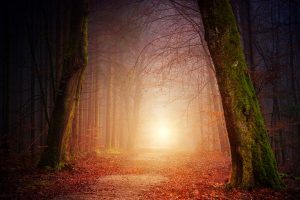 However, Pharaoh and his officials changed their minds about releasing the slaves and he ordered his army to capture and return them to Egypt. He pursued them in his chariot along with his army, his officers, and all the other chariots.
It was an imposing sight for Israel to look behind and see Pharaoh's army marching towards them. Especially when there was no physical barrier to protect them, and with the Red Sea in front of them, they were doomed.
As a terrified nation cries out to the Lord for help, Moses offers them these encouraging words:
Do not be afraid. Stand still, and see the salvation of the Lord, which He will accomplish for you today…The Lord will fight for you, and you shall hold your peace. Exodus 14:13-14 (NKJV)
Then the Lord showed up…to protect and defend His children miraculously! The Lord told Moses to stretch out his hands and staff, because they were to cross the Red Sea on dry ground! This was something unheard of.
The Angel of the Lord and the Pillar of Cloud positioned themselves behind the people to separate them from their enemies. The cloud illuminated the way for Gods people, while darkening the path for their enemies.
The Red Sea divided, and the Children of Israel walked across on dry ground; with the water standing like two walls on their right and left sides. Their pursuers would follow them, but at their own peril.  When the Lord disabled their chariots, the Egyptians realized they were fighting against the Lord Himself. And once Israel was safely across, the waters receded to full depth. Not one pursuer survived.
The Lord saved His people so that the entire world would know that He alone is God.
As the Lord saved ancient Israel that day, He is both ready and able to save His people today. We must pray to the Lord, trusting that He is fully capable to deliver us from adversity. For He is ready to protect and defend His people of faith, especially those who trust in Him for salvation through our Lord and Savior Jesus Christ.
Many of us are now facing an invisible enemy designated as covid-19, and for some, the battle appears to be hopeless. Nevertheless, the Lord is good and merciful; ready to "show Himself strong" on behalf of those whose hearts are perfect before Him.1
Our Lord can make us witnesses of His miraculous work on our behalf so that we may love Him, trust Him, and serve Him. Therefore, let us call on Him to fight all our battles, and watch Him show up for us.
Our Lord is merciful, loving, and faithful; worthy of our faith, confidence, and love as Lamentations 3:22-24 (NLT) teaches:
The faithful love of the LORD never ends! His mercies never cease. Great is his faithfulness; his mercies begin afresh each morning. I say to myself, "The LORD is my inheritance; therefore, I will hope in him!"
What a Wonderful Savior!