For May 3, 2020
It happened during the Feast of Dedication (Chanukkah), an eight-day festival to commemorate the cleansing and rededication of the Second Temple in 164 B.C., some four years after the Greek ruler Antiochus IV had the Temple desecrated. Here, during its purification, miraculously the menorah burned for eight days when there was only enough sacred oil for one day.
The Lord Jesus Christ was on Solomon's Porch within the Temple complex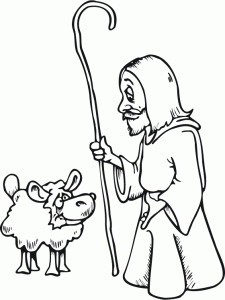 when He addressed the assembled crowd:
My sheep hear my voice, and I know them, and they follow me. And I give them eternal life, and they shall never perish; neither shall anyone snatch them out of my hand. My Father, who has given them to me, is greater than all; and no one is able to snatch them out of my Father's hand. I and my Father are one.  John 10:27-30 (NKJV)
As our Good Shepherd, Jesus offers us an eternal, personal, loving relationship whereby our hearing, knowing, and following Him is both valued and practiced, as we become His precious Sheep.
We hear His voice because we have a personal, intimate, vibrant, experiential knowledge of our beloved Good Shepherd. As Jesus says in John 3:3, we are Born Again. Here—through our faith in Him alone—we acknowledge His righteousness supersedes ours, we repent of our sin, we ask Him for forgiveness, and we invite Him to be our personal Lord and Savior forever.
As our Good Shepherd, the Lord is familiar with each individual sheep, and He knows our beginning, end, and middle. He created us in His image, and He establishes our paths. He knows our sorrows and joys; our cares and concerns; our dangers and trials; our fears and doubts; our words and ways; our thoughts and feelings; our past; our present, and our future, Yet He loves us perfectly and completely.
We will always follow our Good Shepherd because our enduring loving, trusting relationship constrains us to surrender and obey Him in everything. Just as He says in John 14: 15 (ESV): "If you love me, you will keep my commandments!"
Jesus also teaches that as the Good Shepherd, His bountiful provisions for us cannot be defeated by human or Satanic forces. In this life, we are never exempt from tribulations and trials. However, the Good Shepherd will always provide for us as His Sheep, just as Psalm 34:19 (NLT) attests: "The righteous person faces many troubles, but the LORD comes to the rescue each time."
In addition, although our physical death is certain, it is also certain that through Christ, we have an abundant life that lasts beyond the grave into eternity. Jesus says in John 11:25-26 (NLT):
I am the resurrection and the life. Anyone who believes in me will live, even after dying. Everyone who lives in me and believes in me will never ever die.
 Our personal relationship with the Good Shepherd provides us an assurance, comfort, and security we cannot find anywhere else on earth. Won't you trust Him today?
What a Wonderful Savior!