For January 3, 2021
2020 was a remarkable and most regrettable year with a global pandemic (hysteria vs fact), unlawful church shutdowns, business shutdowns and other intrusions on our personal freedoms; the politicization of medical treatment and vaccines, social, political, and racial unrest, the quest for political power and social activism by "any means necessary," selective censorship by the media, escalation of senseless and brutal violence, and excessive government restrictions. When will it end?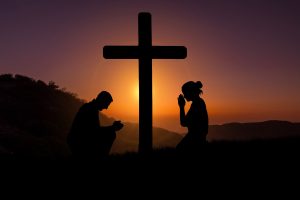 Modernist who declare there is no God, insist that humanity is evolving for the better. Soon all people on earth will share in a perfect utopia where love, peace, and harmony will reign supreme.
Unfortunately, as 2020 proved most emphatically, we humans are not evolving for the better. Instead, we have an inherent "sin problem" that causes us to think, speak, and act in ways that are detrimental to others, for which there is no human remedy!
Human beings are morally and spiritually bankrupt. Thus, we will not become "good" people over time. Although sin is making us progressively worse and disqualifies us from eternal fellowship with our holy God, we can find comfort in the telling and encouraging words that have been spoken and sung for more than two-thousand years,
O give thanks to the Lord, for He is good! For His mercy endures forever. Let the redeemed of the Lord say so, Whom He has redeemed from the hand of the enemy,  And gathered out of the lands, From the east and from the west, From the north and from the south. They wandered in the wilderness in a desolate way; They found no city to dwell in.  Hungry and thirsty, Their soul fainted in them. Then they cried out to the Lord in their trouble, And He delivered them out of their distresses.  And He led them forth by the right way, That they might go to a city for a dwelling place. Oh, that men would give thanks to the Lord for His goodness, And for His wonderful works to the children of men! For He satisfies the longing soul, And fills the hungry soul with goodness (Psalm 107:1—9 NKJV).
The Lord is good and His mercy endures forever. There is a blessed hope and bright future for those of us who understand and acknowledge our sin problem by recognizing that we "wander in the wilderness in a desolate way."
In addition, our souls fainted in us because we were spiritually separated from God forever. We lived desperate lives on earth now, and we were subject to eternal torment in a fiery Hell later. Then, in desperation, we cried out to the Lord and He delivered us.
We who turn to Jesus Christ for mercy can experience His spiritual transformation as His Holy Spirit removes our sin problem forever while imparting within us the ability to think, speak, and act in ways that honor the Lord instead of the Enemy (Satan) to the benefit of others and ourselves.
Jesus Christ also supplies us with a new righteous standing before God which allows us eternal access to all that God has to offer to secure our well-being forever. He also gives us a new lifestyle that seeks His Kingdom and righteousness first and foremost. Then having been sealed by His Spirit, we have access to Heaven upon our death or at His triumphant and glorious return.
In spite of the sinful tendencies of this world and those who know not Christ, we who know the Lord have a blessed hope, an all-encompassing joy, a deep sustaining peace, and a bright eternal future that cannot be taken from us,
And we know that all things work together for good to those who love God, to those who are the called according to His purpose. What then shall we say to these things? If God is for us, who can be against us? Who shall separate us from the love of Christ? Shall tribulation, or distress, or persecution, or famine, or nakedness, or peril, or sword? As it is written: "For Your sake we are killed all day long; We are accounted as sheep for the slaughter." Yet in all these things we are more than conquerors through Him who loved us. For I am persuaded that neither death nor life, nor angels nor principalities nor powers, nor things present nor things to come, nor height nor depth, nor any other created thing, shall be able to separate us from the love of God which is in Christ Jesus our Lord. (Romans 8:28,31,35—39).
We are the living testimonies of God's goodness, grace, and mercy. He is faithful and will never break His promises or providence towards us. We can give thanks unto the Lord, for He is good, and His mercy endures forever; let the redeemed of the Lord say so.
What a Wonderful Savior!