For April 18, 2021
Trusting in what we have no empirical frame of reference is virtually impossible, especially in our materialistic, post-modern world where there is little or no regard for moral, godly, and spiritual underpinnings; especially with those related to Jesus Christ and the Christian Faith, just as the Bible depicts in 2 Timothy 3:1-5 (NKJV),
But know this, that in the last days perilous times will come: For men will be lovers of themselves, lovers of money, boasters, proud, blasphemers, disobedient to parents, unthankful, unholy, unloving, unforgiving,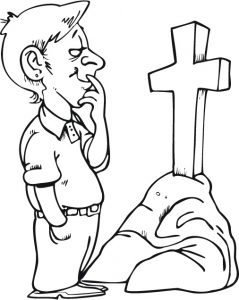 slanderers, without self-control, brutal, despisers of good, traitors, headstrong, haughty, lovers of pleasure rather than lovers of God, having a form of godliness but denying its power. And from such people turn away!
Christian Faith demands that the cold, hard facts associated with our day-to-day existence have to be changed. Only then can we embrace the transcendent, eternal realities that exist—whether we choose to believe them or not. The "cancel culture" purveyors will never cancel matters of Christian Faith, which are always relevant, and eternally substantive.
To compensate for our lack of faith, we have adopted flawed views of faith. Some see faith as a way to impose our will upon God. Here, we reduce God from being the Almighty; the All-knowing Creator and Sustainer of all existence to a mere puppet on a string to do our bidding, (as if He were our genie in a magic lamp).
Yet our God will do exactly what He will do at the precise moment and in the precise manner that suits Him—not us! His ways appear mysterious at times, but they are always perfect because He knows what is best for us in every situation. Besides, He created us and knows the exact number of hair on our heads. Thus, He is well acquainted with our needs, wants, and hearts desires.
Those convinced there is no God and that everything is haphazard view faith as aimless, pie-in-the-sky wishing tend to overlook or ignore how from purely a material standpoint, faith is a major part of our day-to-day existence. Without faith, we would scrutinize our air, water, food, furniture, appliances, vehicles, boats, and airplanes; everything we wanted to use before we used it.
Another flawed view of faith is to equate it with our feelings. Here faith is present only when we are happy with ourselves or our circumstances. Yet our pride, selfishness, emotional wounds, sinful cravings, "well-meaning" people, and our Enemy, Satan can influence our feelings and deceive us.
God is faithful, and He will always be at work on our behalf, regardless of how we feel. The Lord said that we could move mountains and that nothing would be impossible with faith the size of a mustard seed. Job cursed the day of His birth, and yet He had a tremendous faith in God. To gauge the quantity or fervor of our faith, we can never rely on our feelings alone, because faith is a mystery that is essential to our human experience,
Now faith is the substance of things hoped for, the evidence of things not seen. But without faith it is impossible to please Him, for he who comes to God must believe that He is, and that He is a rewarder of those who diligently seek Him (Hebrews 11:1, 6 (NKJV).
Have faith in God. He is a rewarder to those who seek Him with their whole hearts. Ungodly hearts are spiritually dead, and emotionally ungratified. They lack meaning, and grope out an unfulfilled existence; futilely searching for happiness everywhere, but never finding it—remaining sad, and empty on the inside.
God has supplied our answer freely through Jesus Christ. With our faith in Christ and repentance of sin, we can receive Jesus Christ who gives us a complete spiritual overhaul, a restored fellowship with God, and an abundant life that lasts forever. In essence, we turn from sin, turn to Christ, and invite Him to be our personal Lord and Savior. Then, God seals us with His Holy Spirit forever.
We may not experience significant external changes, like having our names listed in Who's Who, or having others speak well of us, or even obtaining wealth, influence, or notoriety. Yet we do have a new, internal spiritual being that makes us new creations who are acceptable before God forever,
Therefore, if anyone is in Christ, he is a new creation; old things have passed away; behold, all things have become new (2 Corinthians 5:17 NKJV).
Won't you have faith in God today? What a Wonderful Savior!