For May 2, 2021
In the Upper Room during their Passover Seder, Jesus old His disciples that He was leaving them. He was going to a place that was familiar to them and that He would return for them shortly. However, Thomas told Jesus that he and the Disciples did not know where the Lord was going or how they could get there, Jesus responds with an unforgettable lesson on His uniquely transcendent person,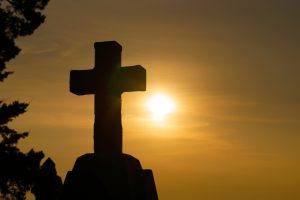 I am the way, the truth, and the life. No one comes to the Father except through Me (John 14:6 NKJV).
Jesus says He is the way. This Greek word used is hodos, (Strong-G3598), which distinguishes something from the normal path or way.1
This is most significant since shortly after the Day of Pentecost, Christians were referred to as followers of "the way" (Acts 9:2). Jesus' characterization of Himself was intentional and emphatically clear. He is the only way to the Father,
I do not merely point out the way, teach the truth, and bestow life, but I am the way, the truth, and the life, so that by attachment to Me, one necessarily is in the way and possesses the truth and the life. He is the goal of all human aspiration.2
Here, Jesus also speaks in deistic terms—as though He is God—the ultimate authority to ensure and guarantee our access to the Father,
Christ is the gate. He is the way. There is no other avenue to Heaven. Every other choice is wrong. There is no in between, no third alternative, no other gate. The options are simple and straightforward. There are not many good religions; there is only one. And so the options are only two—the true and the false, the right and the wrong, God's way and humankind's way. All this world's religions are based on human achievement. Biblical Christianity alone recognizes divine accomplishment—the work of Christ on humankind's behalf—as the sole basis of salvation.3
Peter repeats Jesus' distinctive tone when he addresses the religious leaders at Jerusalem shortly after the Day of Pentecost,
Jesus is the stone you builders rejected, which has become the cornerstone. Salvation is found in no one else, for there is no other name under heaven given to mankind by which we must be saved (Acts 4:11-12 NIV).
Not only is Jesus the way, but He is also the embodiment of absolute truth. The Greek word used for truth here is aletheia (Strong-G225), which differentiates something from a mere object of knowledge or intellectual inquiry.[See: Walter Bauer, 35-36, W.E. Vine, "True, Truly, Truth," 245, and William L. Reese, "Truth," Dictionary of Philosophy and Religion: Eastern and Western Thought, 8th ed., (Atlantic Highlands: Humanities Press, 1991) 588.[/note]
In other words, Jesus is not some common source of moral and ethical truth. He is "truth in all its fullness and scope." He is the perfect expression of any-and-all truth—past, present, and future. When Pontius Pilate sarcastically retorted, "What is truth?" (John 18:38), he had no idea of the vast implications of his remark. He was oblivious to speaking with Jesus Christ—truth personified.
As we consider His life, teachings, death, and resurrection objectively, His uniqueness as our only God and Savior becomes unmistakably clear. God is the source of truth, and Jesus Christ is His representation of all that is true—in all its straightforwardness and complete authenticity.
Not just the only way and absolute truth, Jesus is the source of abundant and everlasting life. His words, "I am the resurrection and the life" (John 11:25), are consistent with His pre-incarnate being,
He was with God in the beginning. Through him all things were made; without Him nothing was made that has been made. In him was life, and that life was the light of all mankind. The light shines in the darkness, and the darkness has not overcome it (John 1:2-5 NIV).
The Greek word used for life is zoe (Strong-G2222), to describe physical and spiritual life, which finds their origin and continuance in God, who is the source of all life.4Only the Lord Jesus Christ can bestow life that becomes the "light to all mankind;" a rich, fulfilling life to all who place their trust in Him. Because of Him, we live, move, and have our being (Acts 17:28).
Thus, Jesus Christ is not one who merely points the way to God or shows us how we can know God intellectually. He is God in human flesh so that when we see Him, we see the Father (John 14:9).
Since He and the Father are one, He offers the means to restore our broken fellowship with God. Only then can we experience God personally, intimately, and profoundly in ways that affect substantive spiritual changes that last forever. All He requires from us is our faith in His saving work at Calvary. We then love Him and obey Him because of the transformation His Holy Spirit performs in our hearts daily.
Ultimately, Jesus Christ left glory, not because of what we could do for Him, but because of what He could do for us—provide the way to God. He performed this wonderful work because He loves us more than we could ever comprehend. It is not our works but our faith in His works that allows us to return to God.
Because of His perfect work, we can be fully confident that God will hear and answer us when we can pray in Jesus' name. Jesus' perfect merit guarantees the Father's immediate attention. Won't you trust Him today?
What a Wonderful Savior!