For May 16, 2021
When asked which was the greatest of all God's Commandments, Jesus said there were two; to love God with all our heart, soul, and mind, and love our neighbors as we love ourselves (Matthew 22:36–40, Mark 12:28–34, Luke 10:25–37). The Lord's answer discloses how we are to live in harmony with God, neighbors, and ourselves—especially when we are meeting our physical, social, and aesthetic needs appropriately.
In other word, our altruism can sustain and improve the quality of life for others and ourselves. However, when we exploit people for our own sensual gratification, danger ensues to everyone's detriment. Thus, Jesus offers this profound illustration to tell how important His Followers are as we impact our world and glorify God,
You are the salt of the earth; but if the salt loses its flavor, how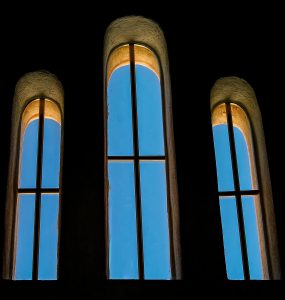 shall it be seasoned? It is then good for nothing but to be thrown out and trampled underfoot by men. You are the light of the world. A city that is set on a hill cannot be hidden. Nor do they light a lamp and put it under a basket, but on a lampstand, and it gives light to all who are in the house. Let your light so shine before men, that they may see your good works and glorify your Father in heaven. Matthew 5:13–16 (NKJV)
The Bible speaks about how in the last days false teachers will promote a form of lawlessness where no longer do the Word of God and the Holy Spirit inform and direct our thoughts, words, and actions exclusively. Instead, we consider whatever feels good (or whatever feels right) with far greater value.
As a result, too many of us today live conflicted lives as we try to accommodate two diametrically opposed realities. One reality features Christ as savior where His abundant and eternal life prevails. The other reality features Satan, the world and self where a life of sin and debauchery prevails.
Just before our Lord's return, our world will be lust-driven where iniquity abounds and where people no longer have a regard for their fellow human beings. Here, using people and cherishing things is commonplace as we pursue the pride of life, the lust of the eyes, and the lust of the flesh with all fervor.
The pride of life is a self-centered obsession with power or influence, without regard for the safety or the well-being of others, which is in stark contrast to God's design for power and influence: to maintain order, render justice, and help others in need.
When we succumb to this particular sin, we turn our focus away from others and onto ourselves. With a new credo, "God helps those who help themselves," or "I've got to get paid," we resort to satisfying our selfish cravings at the expense of others.
Over the last few years, we have witnessed an escalation in the abuse of power that has manifested itself in global tyranny and violence, adversely affecting so many of us around the world.
The lust of the eyes is coveting things of value for our own aesthetic gratification. The love of money is one example of this. God wants us to use our money as a form of worship through tithes and offerings, which express our appreciation to God for His providence while providing for His servants who minister to us.
God also wants us to use our money to show benevolence toward others who are less fortunate through charitable giving and to create wealth for ourselves as well. The lust of the eyes changes purpose for money into selfish extravagance. We splurge on ourselves and are cold toward others in need of our generosity and compassion.
The lust of the flesh is the overindulgence of our sensual desires. Gluttony, substance abuse, and sexual incorrigibility are all forms of this obsession. The Bible also teaches that sexual incorrigibility devastates God's plan to sustain healthy, interpersonal relationships. Fornication, adultery, homosexuality, masturbation, voyeurism, pedophilia, rape, and pornography all lead to what one writer considers as a false intimacy,
The fantasies of a sex addict are feeble attempts to gain what only God is capable of giving, which we will experience partially on earth and fully in Heaven. Sexual fantasy can conjure up a perfect world of nourishment, love, generosity, and tenderness. The truth is, however, that when we try to bury the core reality of emptiness, the result is false intimacy, not genuine. When we insist that our needs of intimacy be fulfilled and ignore the reality that loneliness is always present, we get the very opposite of what we're demanding: We're left alone to stare with open eyes at the harsh reality of nakedness.1
Promiscuity and debauchery are not the identification badges we are to display before the world. Our Lord Jesus Christ calls us to represent Him—as salt and light—with moral and spiritual purity. The Holy Spirit gives us the remarkable ability to resist not only the lusts of the flesh in general, but also our sexual cravings in particular.
Sexual gratification outside of God's intended purpose of monogamous relationships yields shattered hopes, destroyed relationships, and feelings of intense guilt, shame, and emptiness. People who seek mere physical enjoyment in sex, outside of the commitment of love and fidelity in marriage, are deceiving themselves as this writer notes,
Don't buy into the promotion of sex as mere physical enjoyment totally apart from the commitment of love. Men [and women] who open their Christmas present before the holiday invariably find themselves bored by the celebration.2
We tend to admire those who practice a personal self-control through moral temperance to contrast the moral licentiousness that is accepted and encouraged by our fallen world.
Through our personal relationship with Jesus Christ, we can find the strength  to live morally and responsibly. Through our faith in Christ, we now have a willingness to honor Him, to serve others, and to meet our needs safely and appropriately.
When He transformed us from the inside out, He released us from the bondage of sin and gave us the ability to resist temptation as we walk in His Spirit just as the Bible further teaches,
For the grace of God that brings salvation has appeared to all men, teaching us that, denying ungodliness and worldly lusts, we should live soberly, righteously, and godly in the present age, looking for the blessed hope and glorious appearing of our great God and Savior Jesus Christ, who gave Himself for us, that He might redeem us from every lawless deed and purify for Himself His own special people, zealous for good works. Titus 2:11–14 (NKJV)
There will be times when we fail. Yet our Lord supplies us with the power we need to resist the urge to blame others and make excuses. In this way, He turns us from our destructive patterns of compulsive, addictive behavior. Instead of using blame and excuses, we ask the Lord for forgiveness and reconcile with the offended, relying on His Spirit to strengthen our daily faith walk.
Over time, His Spirit helps us become morally astute practitioners of the Christian faith who refrain from exploiting others and live lives that feature astounding "good works" that glorify our Heavenly Father. Let's live for Christ today and show our stellar Christian witness. Shall we?
What a Wonderful Savior!
Harry W. Schaumburg, False Intimacy: Understanding the Struggle of Sexual Addiction (Colorado Springs: NavPress, 1997), 31.