For May 23, 2021
How can anyone capture the emotions, anxieties, fears, doubts, and worries that plague us when our presuppositions concerning God, the world around us, and ourselves are in direct conflict with our understanding of what we think the Bible says?
Initially, we experience euphoria when we realize God has given us  His eternal love, redemption, forgiveness, freedom, liberty and peace. We are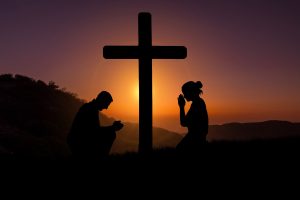 at our highest point because we belong to God, and He belongs to us—life is very good!
Then, adversity strikes unexpectedly in the loss of a child, parent, or someone dear to us; poor health, a near-death experience, sudden career change, loss of income, loss of property and/or possessions. Like the recent pandemic, these things are beyond our control and can trouble us severely.
Some of us seek comfort from those who are near and dear to us while others of us try to anesthetize our pain through substance use or sex. More still cope by using work as a distraction through jobs, volunteer service, or even church activity. Still others cope through isolation by shutting themselves away from the world around them.
Although it can be virtually impossible to find sanity during our most excruciating moments, we will never find comfort through external means.
The Bible tells us how to handle life after "the dust settles" by looking at it from its proper perspective. We live in a sin-sick, fallen world where things happen. It also tells us we can be our own worst enemy due to poor choices that lead to disastrous outcomes. Unfortunately, here we blame God for our calamity,
The foolishness of a man twists his way, And his heart frets against the Lord (Proverbs 19:3 NKJV).
Many who have experienced disappointment, loss, or trauma have chosen to rethink God's goodness, faithfulness, and providence briefly, indefinitely, or even permanently by walking away from Him.
Jesus taught how we will receive and respond to His Word in adversity in His parable of of the Sower (Matthew 13:3-9 NKJV),
Behold, a sower went out to sow. And as he sowed, some seed fell by the wayside; and the birds came and devoured them. Some fell on stony places, where they did not have much earth; and they immediately sprang up because they had no depth of earth. But when the sun was up they were scorched, and because they had no root they withered away. And some fell among thorns, and the thorns sprang up and choked them. But others fell on good ground and yielded a crop: some a hundredfold, some sixty, some thirty. He who has ears to hear, let him hear!
Like the "good ground," in this parable, David took the proper response to adversity. Here, he and his men were devastated by the loss of their families and property, and they cried until they had no more tears. He found no relief in his confederates, because they blamed him for their loss and spoke of stoning him to death.
He knew that God was with him, and so he "strengthened himself in the Lord his God" (1 Samuel 30:6). True comfort comes from the inside out when we rely on our Friend who is closer than a brother (Proverbs 18:24).
We can always trust Him for answers, security, and lasting comfort—in any situation. Job's poignant words ring true here, "Though he slay me, yet will I trust in him" (Job 13:15 AKJV). Despite his adversity, Job focused on what really matters,
I know that my Redeemer lives, and he will stand upon the earth at last. And after my body has decayed, yet in my body I will see God! I will see him for myself, Yes, I will see him with my own eyes. I am overwhelmed at the thought (Job 19:25-27 NLT)!
Look at Moses as presented in Exodus 1-3 for example. Imagine how disgraced he must have felt while he was tending Jethro's flock on the backside of the mountain in the Sinai desert. He had been accustomed to all the pageantry and splendor of Ancient Egypt as Pharaoh's grandson before he killed an Egyptian and fled the country for his very life.
He was responsible for his disgrace and exile having murdered an Egyptian. And for forty years, this former prince wore the titles of "murderer," "fugitive," and "vagabond" with Jethro's flock as subjects of his kingdom.
Nevertheless, his life was not over. God had a special purpose for Moses that was beyond his wildest dreams. After he found the Holy One in the Sinai Desert, he began a life of consecrated and illustrious service. (Incidentally, God ultimately transformed this mountain from a place of isolation, shame, and disgrace to a point of faith, hope, and promise for Moses and the Nation of Israel.)
Because he trusted the Lord despite his circumstances, the Lord used him to provide the ceremonial and judicial principles that influence the religious affairs of God's people today.
What really matters is that God is with us, and He will continue to be with us always—especially during our most painful moments—even when it is difficult to distinguish whether we are culpable for our "dust settling" or not.
There have been times when I too have blamed the Lord for troubling outcomes that did not meet my expectations. On those occasions, God seemed to be absent, although I knew Him personally and intimately. Those were moments when I felt spiritually empty as I went through the motions. In other words, I too have had my share of troubling "backside of the mountain" experiences.
But, after a time of somber, honest, and objective thought and reflection, coupled with some well-timed biblical counseling, it became even clearer that my poor choices caused my unfortunate circumstances.
In retrospect, it was at those times when I was angry with God and blamed Him for my predicament. However ultimately, those were also the times when an attitude adjustment was needed. The Holy Spirit was there to remind me that I should never be angry with God. Nor should I consider not serving Him. I was the one in error, not Him, and I needed to repent and return to Him—not Him to me.
We should not be so quick to abandon our faith in the Lord during tough times. Jesus Christ is the answer to every question and the solution to every problem. Thus, our intent should be to lean into Him even more during times of crisis as the Bible teaches,
Trust in the Lord with all your heart, And lean not on your own understanding; In all your ways acknowledge Him, And He shall direct your paths (Proverbs 3:5-6 NKJV).
We can trust in the Lord despite adversity. He loves us deeply and is faithful in everything. Won't you rely on Him today?
What a Wonderful Savior!