For October 3, 2021
One of the greatest lessons I learned early in life was how my Creator and Redeemer established my new identity two thousand years ago at Calvary's Cross. His incomparable and indescribable act of love, grace, and mercy defines who and Whose I am forever.
Once a sinner and outcast from the presence of God, now I am redeemed and adopted into the Family of God—forever! Oh, the joy I felt when I understood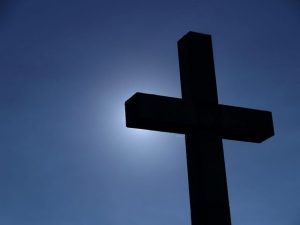 how special and unique I am because God loves me, and He gives me eternal forgiveness and freedom, as Jesus Christ declares and promises,
For God so loved the world that he gave his one and only Son, that whoever believes in him shall not perish but have eternal life. For God did not send his Son into the world to condemn the world, but to save the world through him. Whoever believes in him is not condemned, but whoever does not believe stands condemned already because they have not believed in the name of God's one and only Son. John 3:16-18 (NIV)
In other words (time to be self-serving), I realize that the Lord doesn't just love Noah, Abraham, Moses, Peter, Paul, and John. He loves me too! He died for me, He rose for me, He's preparing a place for me, and He's coming again soon for me. And from that time forward, the Angel of the Lord's "tidings of great joy" (Luke 2:10) took on a new, personal, and extremely riveting meaning.
Romans 14:17 tells us we live lives filled with righteousness, peace, and "joy" in the Holy Spirit. Hebrews 12:2 tells us to fix our spiritual gaze constantly upon Jesus Christ, who endured our suffering and death for the "joy" (of restoring a fallen humanity to a blessed, loving, eternal fellowship with God) set before Him before the foundation of the world.
The Greek word used for "joy" in both instances is chara (Strong-G5479), which conveys the idea of cheerfulness, calm delight, gladness, to be exceedingly joyful, or joyous.1
It is that most pleasurable, most satisfying, most delightful, ever-present state of being; powered, guided, and sustained by the Holy Spirit of God. Because now and forever, we fix our gaze on what the Lord has done for us, what He is now doing for us, and what He will do for us. This produces within us a pure, unbridled, and lasting joy,
The delight of the mind arising from the consideration of a present, or assured possession of a future good…When joy has so long possessed the mind that it has settled into a temper[ment], we call it cheerfulness. This is natural joy.2
The Holy Spirit's activity is what distinguishes our joy from the common, everyday happiness, which is linked to our capricious feelings that can fluctuate at a moment's notice,
From the witness of the spirit, Paul says, "We…rejoice in hope of the glory of God," because the love of God is shed abroad in our hearts, by the Holy Ghost given to us. That is, the Holy Ghost assures us that we are the objects of that love which he goes on to describe as infinite, immutable, and gratuitous. (Romans 5:3-5) And again, "The Spirit itself beareth witness with our spirit that we are the children of God." If, therefore, any true believer lacks the assurance of faith, the fault is in himself and not the plan of salvation, or in the promises of God.3
The Holy Spirit keeps our thoughts and desires on today's salvation and tomorrow's bliss while perfecting His joy within us simultaneously. Here, He produces His reassuring fruit (joy) inside us as Galatians 5:22 teaches.
More than just our Comforter, who "seals" our redemption and secures our heavenly home, the Holy Spirit gives us life, direction, purpose, and meaning. He is the Almighty God in Spirit, fully capable of purifying, revealing, strengthening, encouraging, and keeping us throughout our life's pilgrimage.
Yet as our Comforter, He intensifies our joy each time He brings to mind those precious promises in the Bible that reveal how wonderful our God is. One such enduring promise is Psalm 91: 1-8 (NLT), where the Lord, our Good Shepherd faithfully watches over and provides for us,
Those who live in the shelter of the Most High will find rest in the shadow of the Almighty. This I declare about the LORD: He alone is my refuge, my place of safety; he is my God, and I trust him. For he will rescue you from every trap and protect you from deadly disease. He will cover you with his feathers. He will shelter you with his wings. His faithful promises are your armor and protection. Do not be afraid of the terrors of the night, nor the arrow that flies in the day. Do not dread the disease that stalks in darkness, nor the disaster that strikes at midday. Though a thousand fall at your side, though ten thousand are dying around you, these evils will not touch you. Just open your eyes, and see how the wicked are punished.
I beg to differ with those who characterize the Christian faith as merely a "pie-in-the-sky" religion. To them, all we have is eternal bliss in Heaven and nothing to look forward to on earth. But this is not so. The Christian faith produces a life of abundance (John 10:10), which begins the moment we accept Jesus Christ as our Savior and Lord and it continues forever.
Just our peace of mind alone, makes the Christian life more valuable than anything else on earth, and it certainly makes life worth living "in real-time" today. We who embrace the Christian journey have considerable treasures to gain in this life and the next,
The incentive to win is in the glorious perspective we have because we are "looking unto Jesus." "Looking away from all else, looking at that which fills the heart." We are going to run, not because of the prize at the end and not because so many illustrious saints have run the course in the past and have been gloriously crowned, but because the vision of Jesus thrills the soul.4
Our Christian joy is never temporary or whimsical. The Holy Spirit ensures that it is always at work within us—despite our circumstances—reminding us of God's vast love, mercy, and goodness toward us. Won't you surrender to Christ today and experience His incredible joy that lasts forever?
What a Wonderful Savior!