For May 1, 2022
At this point in our human history, with world events such as wars and rumors of wars, hatred, immorality, pestilence, famine, etc., we are close to living out Revelation 20:7-8 (NKJV),
Now when the thousand years have expired, Satan will be released from his prison and will go out to deceive the nations which are in the four corners of the earth.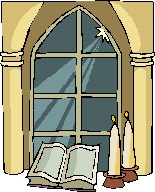 Thus, it behooves us to finish well, since our Lord's return is imminent,
And do this, knowing the time, that now it is high time to awake out of sleep; for now our salvation is nearer than when we first believed. The night is far spent, the day is at hand. Therefore let us cast off the works of darkness, and let us put on the armor of light. Let us walk properly, as in the day, not in revelry and drunkenness, not in lewdness and lust, not in strife and envy. But put on the Lord Jesus Christ, and make no provision for the flesh, to fulfill its lusts. Romans 13:11-14 (NKJV)
We can finish well by furthering the Kingdom of God; living out the principles of Psalm 1:1-4 (NIV),
Blessed is the one who does not walk in step with the wicked or stand in the way that sinners take or sit in the company of mockers, but whose delight is in the law of the Lord, and who meditates on his law day and night. That person is like a tree planted by streams of water, which yields its fruit in season and whose leaf does not wither—whatever they do prospers.
Jesus tells about the importance of resisting the Enemy and finishing well in the last days,
At that time many will turn away from the faith and will betray and hate each other, and many false prophets will appear and deceive many people. Because of the increase of wickedness, the love of most will grow cold, but the one who stands firm to the end will be saved. And this gospel of the kingdom will be preached in the whole world as a testimony to all nations, and then the end will come. Matthew 24:10-14 (NIV)
None of us will ever achieve spiritual and moral perfection in this life, since we are yet subject to sin's influence. Nevertheless, we have the wonderful example of our Lord and Savior, Jesus Christ, who pledges His support and Spirit-power to enable us to live for Him consistently and serve Him faithfully.
The Lord is all-sufficient in supplying our temporal and spiritual needs beyond our comprehension. He protects, provides, and guides us with such precision when we need Him. Each day, we can experience His divine promises given in the following passages,
Yet I still dare to hope when I remember this: The faithful love of the LORD never ends! His mercies never cease. Great is his faithfulness; his mercies begin afresh each morning. I say to myself, "The LORD is my inheritance; therefore, I will hope in him!" Lamentations 3:21-24 (NLT)
Also,
For all the promises of God in Him are Yes, and in Him Amen, to the glory of God through us. 2 Corinthians 1:20 (NKJV)
The Lord continues to "show Himself strong" for us (2 Chronicles 16:9), especially during times of perplexity, uncertainty, and peril; even when we deserve God's wrath and condemnation because "all have sinned." (Romans 3:23) None of our good works should engender our boasting, since they are merely what He expects of us,
When a servant comes in from plowing or taking care of sheep, does his master say, 'Come in and eat with me'? No, he says, 'Prepare my meal, put on your apron, and serve me while I eat. Then you can eat later.' And does the master thank the servant for doing what he was told to do? Of course not. In the same way, when you obey me you should say, 'We are unworthy servants who have simply done our duty.' Luke 17:7-10 (NLT).
We can never be "good enough" to earn His consideration. Yet He loves and cares for us deeply.
Thus, we should press on toward the heavenly prize He has in store for all those who love His appearing (Philippians 3:14, 2 Timothy 4:8). There is an old hymn that expresses our charge to live valiantly and victoriously for Christ—especially in these last days,
Stand Up, Stand Up For Jesus1
George Duffield, Jr.
Stand up, stand up for Jesus, ye soldiers of the cross; lift high his royal banner, it must not suffer loss: From vict'ry unto vict'ry, his army he shall lead, till ev'ry foe is vanquished and Christ is Lord indeed.
Stand up, stand up for Jesus, the trumpet call obey; forth to the mighty conflict, in this his glorious day: Ye that are men now serve him against unnumbered foes; let courage rise with danger, and strength to strength oppose.
Stand up, stand up for Jesus, stand in his strength alone; the arm of flesh will fail you, ye dare not trust your own: Put on the gospel armor, each piece put on with prayer; where duty calls or danger, be never wanting there.
Stand up, stand up for Jesus, the strife will not be long; this day the noise of battle, the next, the victor's song: To him that overcometh a crown of life shall be; he with the King of glory shall reign eternally.
Our self-centered plans need to yield to Christ-centered, God-honoring, and Bible-based ones. We do not know what the future holds for us, but we know who holds the future in His caring hands. He is always with us, watching over us—even when we're not aware of His presence and providence.
Ultimately, life will never be a "bed of roses," but through faith in Christ, it can be exceptionally blessed, nonetheless. And although our "outer house" continues to decay, the "inner person" is being renewed daily (2 Corinthians 4:16). And for this, we can be thankful. Won't you give your heart to the Lord today and finish strong for Him?
What a Wonderful Savior!