For April 24, 2022
Have you noticed the news reports lately? There have been stunning and unfathomable reports of inordinate levels of insanity recently, in the form of crime and random shootings. I cannot recall another period in our nation's recent history where there was such a proliferation of crime and random violence as such a common occurrence.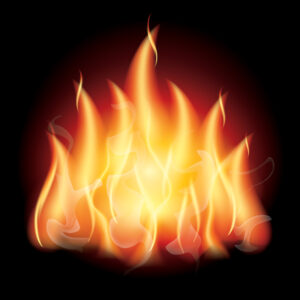 What seems particularly deranged about this behavior is how the individuals committing the heinous acts feel emboldened or even entitled to settle trivial disputes by ending the life of another human being—as if they themselves were God, who is the only one who gives  life and is the only one with the power to take life.
What ever happened to our expressing human decency? What ever happened to people communicating like civil adults? What ever happened to people engaging in rational and reasonable compromise to settle disputes? What ever happened to our showing emotional maturity by agreeing to disagree without resorting to violence?
More and more misguided individuals are playing with fire, since all of us will have to give an account for the deeds we do in this life, whether they are good or bad,
For the Son of Man will come in the glory of His Father with His angels, and then He will reward each according to his works. Matthew 16:27 (NKJV)
On the day of reckoning, one cannot use ignorance as an excuse or as a successful defense,
If you say, "Surely we did not know this," Does not He who weighs the hearts consider it? He who keeps your soul, does He not know it? And will He not render to each man according to his deeds? Proverbs 24:12 (NKJV)
The 'playing God' lunacy is not a recent phenomenon. From the time of Cain, who killed his brother Abel over a religious dispute (Genesis 4:8), we have been discovering new ways to settle our disputes… with violence.
To those deluded individuals who feel they are righteous in their actions, Jesus makes the following observation,
A good tree produces good fruit, and a bad tree produces bad fruit. A good tree can't produce bad fruit, and a bad tree can't produce good fruit. So every tree that does not produce good fruit is chopped down and thrown into the fire. Yes, just as you can identify a tree by its fruit, so you can identify people by their actions. Matthew 7:17-20 (NLT)
Jesus also draws a distinction between His good work and the Enemy's destructive work,
The thief does not come except to steal, and to kill, and to destroy. I have come that they may have life, and that they may have it more abundantly. John 10:10 (NKJV)
Steal? Kill? Destroy? Sound familiar? It appears that these folks are agents of Satan as they wantonly and maliciously steal, kill, and destroy for their own nefarious purposes.
However one day—very soon—they will join their Leader and face a final retribution,
And the devil, who deceived them, was thrown into the lake of burning sulfur, where the beast and the false prophet had been thrown. They will be tormented day and night for ever and ever. Then I saw a great white throne and him who was seated on it. The earth and the heavens fled from his presence, and there was no place for them. And I saw the dead, great and small, standing before the throne, and books were opened. Another book was opened, which is the book of life. The dead were judged according to what they had done as recorded in the books. The sea gave up the dead that were in it, and death and Hades gave up the dead that were in them, and each person was judged according to what they had done. Then death and Hades were thrown into the lake of fire. The lake of fire is the second death. Anyone whose name was not found written in the book of life was thrown into the lake of fire. Revelation 20:10-15 (NKJV)
Over six-thousand years of human history, God's Word has been found to be  true and reliable, and its warnings are to be heeded.
Thus, I would never play with fire by assuming to be Creator and Sustainer of all that is living, and fall into the hands of an angry God in the process. There is but one God who has given us one Lord and Savior who is Jesus Christ. One day, He will be the Righteous Judge and dispense His eternal justice,
For none of us lives to himself, and no one dies to himself. For if we live, we live to the Lord; and if we die, we die to the Lord. Therefore, whether we live or die, we are the Lord's. For to this end Christ died and rose and lived again, that He might be Lord of both the dead and the living. But why do you judge your brother? Or why do you show contempt for your brother? For we shall all stand before the judgment seat of Christ. For it is written: "As I live, says the Lord, Every knee shall bow to Me, And every tongue shall confess to God." So then each of us shall give account of himself to God. Romans 14:7-12 (NKJV)
Further,
Therefore God also has highly exalted Him and given Him the name which is above every name, that at the name of Jesus every knee should bow, of those in heaven, and of those on earth, and of those under the earth, and that every tongue should confess that Jesus Christ is Lord, to the glory of God the Father. Philippians 2:9-11 (NKJV)
People will be burned—forever—playing with fire. We must acknowledge God as the only giver of life, and accept His means to abundant, eternal life through Jesus Christ. Only through our faith in Him can we find true fulfillment and happiness; in this life and the next. Won't you surrender your life to the Lord Jesus Christ today and find true and lasting peace?
What a Wonderful Savior!