For May 15, 2022
There is one true, living God. He is the Creator and Sustainer of Heaven and earth. As Jeremiah attests,
But the Lord is the true God; He is the living God and the everlasting King. At His wrath the earth will tremble, And the nations will not be able to endure His indignation. Thus you shall say to them: "The gods that have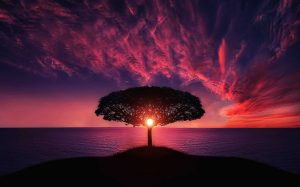 not made the heavens and the earth shall perish from the earth and from under these heavens." Jeremiah 10:10-11 (NKJV)
Jeremiah offered this message to the ancient nation of Judah around 615 BC, a nation in a state of severe moral decline. For their sin, they would face God's judgement when He sent them into Babylonian Captivity for seventy years (around 607 BC to 537 BC).
Jeremiah tried to convey the ideas that Jehovah, the Covenant God of the Hebrews, is the true God, distinct from the false idols they worshiped, and He is also the living God, distinct from the lifeless idols they worshiped.
From Jeremiah's message, we can learn that idols are lifeless, unprofitable, and unfulfilling. But our Lord God is the embodiment of life itself. In other words, not only is He the source of all life, He gives it true meaning and purpose as well.
Today, we can celebrate our capacity to know God on an intimate, personal level. We can know God by faith, as one theologian suggests,
Faith is knowledge, and a higher sort of knowledge. Physical science also rests upon faith—faith in our own existence (and senses), in the existence of a world and persons external to us. Physical science is not invalidated because of faith, for it is yet a cognitive act of the reason and conscience.1
Also, we can know God when we desire to know Him. Only the renewed heart can properly seek divine revelation and understand the revelation once it's given.
Psalm 25:14: The secret of the Lord is with those who fear Him, And He will show them His covenant.
Proverbs 8:17: I love those who love me, And those who seek me early shall find me.
Hebrews 11:6: But without faith it is impossible to please Him, for he who comes to God must believe that He is, and that He is a rewarder of those who diligently seek Him.
We can know God as the Holy Spirit illuminates our minds to apprehend Him.
1 Corinthians 2:14: But the natural man does not receive the things of the Spirit of God, for they are foolishness to him; nor can he know them, because they are spiritually discerned.
We can take pleasure about how God is true, living, and loving towards us. True is God's special characteristic whereby His being and knowledge are always in perfect harmony. Thus, all truth, real or abstract, logical, moral, or religious, will find its foundation in the existence and being of God. A person can say: "I speak the truth," but never: "I am the truth." Only God can make that claim:
Deuteronomy 32:4: He is the Rock, His work is perfect; For all His ways are justice, A God of truth and without injustice; Righteous and upright is He.
John 14:6: Jesus said to him, "I am the way, the truth, and the life. No one comes to the Father except through Me."
Living is having His own being and activity for Himself and His creation. In other words, God is the source of all life and existence. He is the living God.
Matthew 16:16: Simon Peter answered and said, "You are the Christ, the Son of the living God."
Acts 17:24-28: God, who made the world and everything in it, since He is Lord of heaven and earth, does not dwell in temples made with hands… for in Him we live and move and have our being.
Loving is that unique characteristic of God's perfect nature whereby He expresses a selfless benevolence towards us. In other words, our God expresses a rational, voluntary affection toward us that is grounded in His perfect reason and deliberate choice.
John 3:16: For God so loved the world that He gave His only begotten Son, that whoever believes in Him should not perish but have everlasting life.
1 John 4:7-8: Beloved, let us love one another, for love is of God; and everyone who loves is born of God and knows God. He who does not love does not know God, for God is love.
1 John 4:10: In this is love, not that we loved God, but that He loved us and sent His Son to be the propitiation for our sins.
There is one living and true God, an infinite intelligent Spirit, whose name is Jehovah, the maker and supreme ruler of heaven and earth. He is inexpressibly glorious in holiness, and worthy of all possible honor, confidence, and love. In the unity of the Godhead there are three persons, the Father, Son, and Holy Spirit; each equal in every divine perfection, and executing distinct but harmonious offices in the great work of redemption.2
God is true, living, and loving because He broke down the "middle wall of partition" that separated us. (Ephesians 2:14) All we need to do is accept His free gift—Jesus Christ. Won't you trust in Him today?
What a Wonderful Savior!
From: Agustus H. Strong, Systematic Theology, 31st printing (Valley Forge: Judson Press, 1976), 3-4.