For May 22, 2022
In Matthew 18, Jesus Christ offers a timeless lesson on forgiveness that features a somber warning to those who will not forgive others. His parable's central message is that God forgives us—through faith in Christ—and He expects us to forgive others likewise.
A comparison and contrast between the Forgiving King and the Unforgiving Servant reveal some startling implications.
The man fell down before his master and begged him, 'Please, be patient with me, and I will pay it all.' Then his master was filled with pity for him,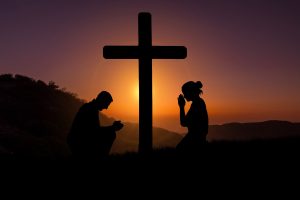 and he released him and forgave his debt. But when the man left the king, he went to a fellow servant who owed him a few thousand dollars. He grabbed him by the throat and demanded instant payment. His fellow servant fell down before him and begged for a little more time. 'Be patient with me, and I will pay it,' he pleaded. But his creditor wouldn't wait. He had the man arrested and put in prison until the debt could be paid in full. When some of the other servants saw this, they were very upset. They went to the king and told him everything that had happened. Then the king called in the man he had forgiven and said, 'You evil servant! I forgave you that tremendous debt because you pleaded with me. Shouldn't you have mercy on your fellow servant, just as I had mercy on you?' Then the angry king sent the man to prison to be tortured until he had paid his entire debt. That's what my heavenly Father will do to you if you refuse to forgive your brothers and sisters from your heart. Matthew 18:28-35 (NLT)
One initial impression notes that the servant imprisoned his fellow servant to recover the money by doing whatever was necessary to collect any outstanding debt. However, as we study the passage, it becomes clear that the Lord is teaching a profound lesson on forgiveness: We should have compassion on others, even as He has shown pity towards us!
We tend to keep track when we are offended and we bear grudges when we should overlook the offense and forgive the offender. We also construct a "sin sliding scale" by comparing sins as if one is more heinous than the other. Such comparisons are futile since all of us have sinned and are equal debtors in the sight of God. (Romans 3:23)
The parable begins with the Forgiving King reckoning a servant who owed ten thousand talents. The talent was the largest measurement for precious and non-precious metals for the Jews. Its weight ranged anywhere from 90 to 120 pounds, (or what a "normal man" could carry), and it represented the wages a common person earned over a "lifetime." The value of a talent was worth somewhere between $1,000.00 and $1,500.00 in today's US dollars. Multiply this by ten thousand, and we have a debt ranging between $10 and $15 million to illustrate our sin debt and how much the Lord forgives us.
In this parable, God is the Forgiving King who loves and forgives us in ways that are far beyond our comprehension. We take for granted the enormity of our sin debt, which has been canceled through the redemptive work of Christ. He exercised special, individualized care to blot out our sin debt and restore our lost fellowship as our great High Priest, as Hebrews 9:11-12 (NLT) tells us,
So Christ has now become the High Priest over all the good things that have come. He has entered that greater, more perfect Tabernacle in heaven, which was not made by human hands and is not part of this created world. With his own blood—not the blood of goats and calves—he entered the Most Holy Place once for all time and secured our redemption forever.
 Immediately after the Unforgiving Servant left the king, he met another servant who owed him 100 denarii. The denarius was the most basic unit of Roman coinage and equaled a normal day's wage of approximately sixteen or seventeen cents in today's US money.1 When multiplied by one hundred, we have a minuscule debt totaling no more than about seventeen dollars.
Compared to the massive debt forgiven, this minuscule debt could have been easily forgiven—and forgotten. But instead, the Unforgiving Servant explodes in anger and assaults his fellow servant by grabbing him by the throat, violently choking him, and yelling: "Pay me what you owe me!" (Matthew 18:28)
The unfortunate fellow servant acknowledges his debt, and he begs for mercy: "Have patience with me and I will repay you!" Although both servants made similar requests for mercy, there were two vastly different outcomes.
As equals, we should forgive and forget offenses because God forgave and forgot ours at Calvary. The Lord commands us to express His kindness toward others, especially those who need our forgiveness. Although sometimes forgiveness is difficult for us, Jesus warns it is required to secure God's forgiveness. Thus, He requires us to extend forgiveness equally—to those who ask for forgiveness—and to those who do not ask for forgiveness in all other areas of our daily, human interaction.
Matthew 18:15-17 outlines a three-step process that can guide us towards radical forgiveness for church settings that can be modified for everyday use,
Contact the offended person(s) for reconciliation.
Use a mediator or mediators to help clarify the issue(s) to everyone's understanding.
Utilize appropriate church leadership (i.e., pastors, deacons, elders, etc.), who are led by the Spirit to resolve the matter through the Word of God and prayer.
The Unforgiving Servant suffered the consequences of his actions as the Forgiving King imposed severe punishment. The Bible rightly teaches, "It is a terrible thing to fall into the hands of the living God." (Hebrews 10:31 NLT)
Performing the ministry of reconciliation is part of a lifelong process of spiritual wholeness and harmony. Won't you show God's love towards others today through your forgiveness, to the degree and magnitude He's forgiven us? Our world needs it today—as do we.
What a Wonderful Savior!