For July 31, 2022
Feeling helpless and constrained; having exhausted every known option; "hemmed in" with no relief in sight expresses the Greek word for tribulation, thlipsis (Strong-G2347).1 Forged in the fire of tribulation can be beneficial to others and us, as we glory in them,
But we glory in tribulations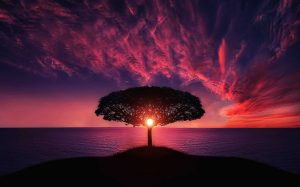 also: knowing that tribulation worketh patience; And patience, experience; and experience, hope: And hope maketh not ashamed; because the love of God is shed abroad in our hearts by the Holy Ghost which is given unto us. Romans 5:3-5 (AKJV)
This is not the Great Tribulation or that turbulent period forecasted in Daniel 12, Matthew 24, and Revelation when Christians suffer worldwide persecution for their faith in Jesus Christ. Yet, persecution for the Christian faith remains a horrible reality, as one writer explains,
Therefore a merely external suffering, such as anybody may have, is not meant thereby, but the cross as a consequence of Christian faith. Faith leads into tribulation, because as peace with God, it leads into conflict with the kingdom of darkness, and also with sin in ourselves, because it endows the ordinary suffering of this life with a spiritual character.2
We are living in the "Last Days" when strong delusion to trust a lie encourages our blatant disregard for human dignity, through the killing of the unborn and helpless, the calculated destruction of the weak and aged, and the exploitation, abuse, trafficking, oppression, and violence perpetrated against all those who fall between these two extremes. Ultimately, we have reduced precious, God-given lives to mere dollars and cents.
Although this is not in the Great Tribulation, our modern society seeks to remove Judeo-Christian principles and teaching from the public discourse under the guise of "separation of church and state." Our society respected and welcomed prayer, the Ten Commandments, and other Judeo-Christian values. Now, we vilify the righteous and praise the wicked to our own peril, just as the Bible warns,
Woe unto them that call evil good, and good evil; that put darkness for light, and light for darkness; that put bitter for sweet, and sweet for bitter. Isaiah 5:20 (AKJV)
Persecuting Christians and eradicating our God from society is the most destructive approach to maintaining our civility and progress. For it is not our technology or military that make us great, it is our faith in God, and the Judeo-Christian upon which we were founded and yet embrace and uphold, just as the Scriptures attest,
Righteousness exalts a nation, but sin is a reproach to any people. Proverbs 14:34 (NKJV)
The Lord is the giver of every good and perfect gift (James 1:17). He does not cause our self-inflicted calamities. Nor does He tempt us to commit sin. He is loving and longsuffering while leading us "in the path of righteousness" in ways that credit Him for what will always be the most beneficial outcomes for all concerned. (Psalm 23:3)
He often uses tribulation to show His power, to encourage or edify us, and to give instruction. To show His power and teach a valuable lesson, Jesus told His Disciples that a person's blindness would reveal "the works of God." (John 9:3) When He healed that person, it dumbfounded the religious leaders, solidified His claim to be the Son of God, and it showed how our loving God can restore sight to the blind.
God also uses tribulation (or trial) to chasten or correct us. Sometimes we take the wrong path, and God will use adversity to turn us in the direction He wants for us. God uses trials to guide us towards achieving the noble behavior patterns that show we are His beloved sons and daughters,
My son, do not despise the chastening of the Lord, Nor be discouraged when you are rebuked by Him; For whom the Lord loves He chastens, And scourges every son whom He receives." Hebrews 12:5-6 (NKJV)
Through trials, we can count it all joy as we collaborate with God in our spiritual completion,
My brethren, count it all joy when you fall into various trials, knowing that the testing of your faith produces patience. But let patience have its perfect work, that you may be perfect and complete, lacking nothing. James 1:2-4 (NKJV)
In our trials and tribulations, His Spirit moves us to keep our minds on Him, so that He can replace our insecurities with His peace through prayer,
You will keep him in perfect peace, Whose mind is stayed on You, Because he trusts in You (Isaiah 26:3 NKJV).
Be anxious for nothing, but in everything by prayer and supplication, with thanksgiving, let your requests be made known to God; and the peace of God, which surpasses all understanding, will guard your hearts and minds through Christ Jesus. Philippians 4:6-7 (NKJV)
Philippians 3:10 tells us we can experience the Lord's mighty power through our tribulations. We can glory because they connect us with Christ and further distinguish us from the world.
The Lord is a special, loving companion Who guides us during our tribulation. He is also our Friend and will never leave or forsake us, even in our most desperate moments. Thus, we can glory in our tribulations, having peace with God without fear of torment. (cf., Proverbs 18:24, Philippians 4:4, 1 John 4:18) Won't you trust Him today, even in tribulation?
What a Wonderful Savior!
Walter Bauer, A Greek-English Lexicon of the New Testament and Other Early Christian Literature, ed., F. Wilbur Gingrich and Frederick W. Danker, 2nd rev. ed., (Chicago: University of Chicago Press, 1979) 362.