For August 21, 2022
The casual observer might take one look at the world's events today; the overt domestic hostility, proliferation of armed conflict; pestilence, disease, drought, famine; social/political uncertainty and upheaval; rampant sin, self-serving interests, and contemptible behavior, and conclude that it's out of control. I do not.
When ancient Judah experienced political and social uncertainty with the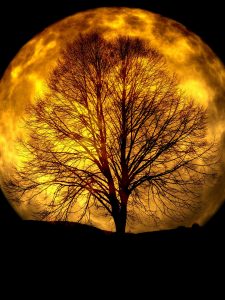 pending invasion of Babylonian forces, God reminded them of His control,
"To whom will you compare me? Who is my equal?" asks the Holy One. Look up into the heavens. Who created all the stars? He brings them out like an army, one after another, calling each by its name. Because of his great power and incomparable strength, not a single one is missing. O Jacob, how can you say the LORD does not see your troubles? O Israel, how can you say God ignores your rights? Have you never heard? Have you never understood? The LORD is the everlasting God, the Creator of all the earth. He never grows weak or weary. No one can measure the depths of his understanding. He gives power to the weak and strength to the powerless. Even youths will become weak and tired, and young men will fall in exhaustion. But those who trust in the LORD will find new strength. They will soar high on wings like eagles. They will run and not grow weary. They will walk and not faint. Isaiah 40:25-31 (NLT)
We have the assurance that our God, who created the heavens and the earth does in fact care for us continually. He provides us with a reasonable portion of health, strength, and sustenance we need to face today's challenges. Then He supplies us with the strength to engage and overcome those challenges successfully in a way that gives Him the credit for the victory, just as He promises,
No weapon formed against you shall prosper, And every tongue which rises against you in judgment You shall condemn. This is the heritage of the servants of the LORD, And their righteousness is from Me," Says the LORD. Isaiah 54:17 (NKJV)
Also,
But thanks be to God! He gives us the victory through our Lord Jesus Christ. Therefore, my dear brothers and sisters, stand firm. Let nothing move you. Always give yourselves fully to the work of the Lord, because you know that your labor in the Lord is not in vain. I Corinthians 15:57-58 (NIV)
Before ascending into Heaven, Jesus warned His Disciples, and us, that in the Last Days (or in today's world), we would face challenges and adversity for the cause of Jesus Christ. Our faith in Him would be the basis of much of the conflict since the world does not accept His message of faith and redemption. Yet He promises to remain with us throughout our pilgrimage (my emphasis),
All authority in heaven and on earth has been given to me. Therefore go and make disciples of all nations, baptizing them in the name of the Father and of the Son and of the Holy Spirit, and teaching them to obey everything I have commanded you. And surely I am with you always, to the very end of the age. Matthew 28:18-20 (NIV)
The Lord is with us today. He will never leave nor forsake us, and He's got our backs! Won't you trust in Him and give Him your heart today?
What a Wonderful Savior!