For August 28, 2022
It is amazing how fallible, finite human beings can live as though they will never have to face the consequences of their actions. We did not create the heavens and the earth. God did, and He continues to guard what is His with all power and authority.
Thus, those who believe they can engage in human trafficking, abuse innocent children, terrorize the weak, or intimidate or bully the defenseless—with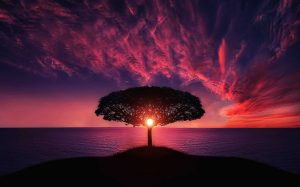 impunity—are deceiving themselves. For God is taking notice, as the Ancient King Solomon warns (my emphasis),
Don't rob the poor just because you can, or exploit the needy in court. For the LORD is their defender. He will ruin anyone who ruins them. Proverbs 22:22-23 (NLT)
Our Lord Jesus Christ also poses a severe warning to anyone who afflicts His precious "Little Ones,"
But if you cause one of these little ones who trusts in me to fall into sin, it would be better for you to have a large millstone tied around your neck and be drowned in the depths of the sea. What sorrow awaits the world, because it tempts people to sin. Temptations are inevitable, but what sorrow awaits the person who does the tempting… Beware that you don't look down on any of these little ones. For I tell you that in heaven their angels are always in the presence of my heavenly Father. Matthew 18:6-7, 10 (NLT)
Because of human depravity, sin flourishes in our world as human hearts and minds will choose to sin without concern for the safety and well being of our neighbor, just as Psalm 37:32 (NLT) teaches,
The wicked wait in ambush for the godly, looking for an excuse to kill them.
Such was the Old Testament Cain's demeanor, whose feelings of guilt and shame prompted him to set an ambush to murder Abel, his brother, after God rebuked him for his flawed conduct. God chastened Cain for not offering his "sacrificial best" to the Lord. Instead, he presented an "insulting tip" to God with what was of minimal value, which is never an equitable or proper response to the goodness and bounty that God bestows to us.
Yet, God is still loving and patient—even in our sin. Cain disrespected God, and instead of chiding Cain for his substandard conduct, God challenges him to acknowledge his sin, repent, and get his mind and heart right,
"Why are you so angry?" the LORD asked Cain. "Why do you look so dejected? You will be accepted if you do what is right. But if you refuse to do what is right, then watch out! Sin is crouching at the door, eager to control you. But you must subdue it and be its master." Genesis 4:6-7 (NLT)
As God saw Cain's true motives and despicable behavior back then, He sees our motives and behavior today. We cannot hide from His observation as the Psalmist attests,
I can never escape from your Spirit! I can never get away from your presence! If I go up to heaven, you are there; if I go down to the grave, you are there. If I ride the wings of the morning, if I dwell by the farthest oceans, even there your hand will guide me, and your strength will support me. I could ask the darkness to hide me and the light around me to become night—but even in darkness I cannot hide from you. To you the night shines as bright as day. Darkness and light are the same to you. Psalm 139:7-12 (NLT)
Moreover, God has chosen us—individually and specifically—to accomplish His mission and purpose for the world and ourselves. There's no other person on this earth quite like us. The Bible tells us we are fearfully and wonderfully made in His image. (cf., Genesis 1:27, Psalm 139:14) Thus, we should never feel that we are mistakes or afterthoughts to God.
He created us as male and female to be unique individuals who fulfill His perfect, eternal design for all humanity. He made us, with all our complexities, to bring Him honor, and not the Enemy. Our bodies are His extensions of love and goodness and should never be the Enemy's weapons for destruction and death. As His crowning achievements of creation and grace, we live out His perfect plan He imparted to us before we were born,
You did not choose Me, but I chose you and appointed you that you should go and bear fruit, and that your fruit should remain, that whatever you ask the Father in My name He may give you. John 15:16 (NKJV)
…According to the power of God, who has saved us and called us with a holy calling, not according to our works, but according to His own purpose and grace which was given to us in Christ Jesus before time began. I Timothy 1:8b-9 (NKJV)
Through Christ, we can know God's perfect plan for redemption as we surrender to Him and make Him, who died for our sins and rose for our justification, our personal Lord and Savior.
Breaking News! God is not dead, and He is watching us …right now! Soon He will return for a reckoning of our righteousness and wickedness. Won't you surrender your heart to Him so that He can use you for His glory today?
What a Wonderful Savior!