For December 18, 2022
In the beginning, God created a perfect world where we could have intimacy with God as our constant Friend and Companion. We felt His love in full measure, which gave us unending joy and satisfaction.
Then, our ancestors ate the forbidden fruit and lost the perfection we had with God; exchanging it for sin, decay, and death. Now we are sin-tainted and separated from our holy God forever. (Romans 3:23)
Unable to resolve our sin problem or broken fellowship in our strength, God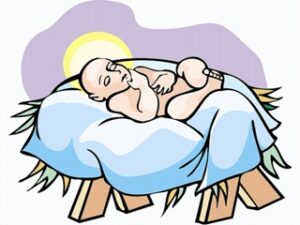 had to intervene on our behalf by becoming human, Jesus Christ, to pay sin's full price for us.
For to us a child is born, to us a son is given, and the government will be on his shoulders. And he will be called Wonderful Counselor, Mighty God, Everlasting Father, Prince of Peace. Isaiah 9:6 (NIV)
By faith in Jesus Christ, we can have restored fellowship and eternal salvation. One would expect the "Savior of the World," to travel with an entourage, and to have suitable, five-star hotel accommodations. But not so with Christ,
So Joseph also went up from the town of Nazareth in Galilee to Judea, to Bethlehem the town of David, because he belonged to the house and line of David. He went there to register with Mary, who was pledged to be married to him and was expecting a child. While they were there, the time came for the baby to be born, and she gave birth to her firstborn, a son. She wrapped him in cloths and placed him in a manger, because there was no guest room available for them. Luke 2:4-7 (NIV)
Jesus Christ, the King of Kings and Lord of Lords, came to save a sin-cursed world, yet the world was oblivious to His birth. Many today yet reject the significance and/or the importance of celebrating His birth (especially this year as it falls on The Lord's Day!). However, observing Jesus' birth on December 25th is a valid expression of our faith and devotion.
We should reserve one day out of the year to observe His birth. However, we should set aside room in our hearts every day for Him. Not covered in rags in some obscure corner treated as an afterthought—but reigning front and center, as our Lord and Sovereign Redeemer. Won't you give the Lord your heart today and experience the true meaning of Christmas?
What a Wonderful Savior!