For February 12, 2023
The veracity, reliability, and relevance of God's Word are beyond question. In today's ever-changing world, there is one constant: God is faithful, and we can trust Him to keep His Word regardless of the circumstances we face.
The Old Testament narrative of Micaiah, presented in 1 Kings 22 and 2 Chronicles 18, illustrates how we can trust God and His Word in ways that are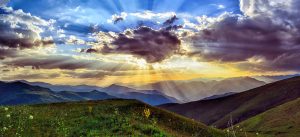 most astounding.
One-hundred and fifty years before this story unfolds, (a thousand years before the birth of Christ), as David reigned over a united Hebrew monarchy at Jerusalem. David was succeeded by his son, Solomon, who was later succeeded by his son, Rehoboam.
Under Rehoboam's reign, the kingdom was divided, with Jeroboam I controlling the Northern Kingdom (Israel) with Samaria as the capital city, while Rehoboam remained king over the Southern Kingdom (Judah) at Jerusalem.
One-hundred and twenty years pass before Ahab and Jezebel become king and queen of the Northern Kingdom in Samaria. Known for their despicable wickedness and ruthlessness, they surreptitiously cause the unjust killing of Naboth, an innocent man, so that they can take his vineyard, which was situated next to the palace.
After Naboth was stoned to death, King Ahab took immediate possession of the vineyard. God, who was not happy with their treachery, sent Elijah the Prophet to the vineyard to confront Ahab with His Word of judgement,
Then the word of the Lord came to Elijah the Tishbite: "Go down to meet Ahab king of Israel, who rules in Samaria. He is now in Naboth's vineyard, where he has gone to take possession of it. Say to him, 'This is what the Lord says: Have you not murdered a man and seized his property?' Then say to him, 'This is what the Lord says: In the place where dogs licked up Naboth's blood, dogs will lick up your blood—yes, yours!' " 1 Kings 21:17-19 (NIV)
Sometimes evildoers may think they can "get by" with their misdeeds, but they will never get away. Numbers 32:23 warns, "Be sure your sin will find you out."
Three years pass before Jehoshaphat, the king of Judah, visits Ahab in an effort to reclaim Ramoth, a city that fell under Syrian domination.
Before the battle, Jehoshaphat asked Ahab to ascertain God's Word about their endeavors. Ahab gathered his 400 prophets, who predicted that God would undoubtedly give them a victorious conquest.
Their claims of victory troubled Jehoshaphat, a godly king, who then requested to hear from a prophet of the Lord about the matter. Ahab identified Micaiah and summoned him immediately.
It must have been awe-inspiring to see Ahab and Jehoshaphat in full regalia sitting on thrones near the entrance of the gate of Samaria, with all the opulence and splendor befitting dual royalty.
Yet, when challenged to speak God's Word, Micaiah replies,
I saw all Israel scattered on the mountains, as sheep that have no shepherd. And the Lord said, "These have no master. Let each return to his house in peace." 1 Kings 22:17 (NKJV)
Then he goes on to say,
Therefore hear the word of the Lord: I saw the Lord sitting on His throne, and all the host of heaven standing by, on His right hand and on His left. And the Lord said, "Who will persuade Ahab to go up, that he may fall at Ramoth Gilead?" So one spoke in this manner, and another spoke in that manner. Then a spirit came forward and stood before the Lord, and said, "I will persuade him." The Lord said to him, "In what way?" So he said, "I will go out and be a lying spirit in the mouth of all his prophets." And the Lord said, "You shall persuade him, and also prevail. Go out and do so." Therefore look! The Lord has put a lying spirit in the mouth of all these prophets of yours, and the Lord has declared disaster against you. 1 Kings 22:19-23 (NKJV)
For his faith, courage, and tenacity, Micaiah was sent to prison, where they were to feed him bread and water until Ahab triumphantly returned to Samaria.
But God had other plans that He revealed trough Elijah and Micaiah. Although one revelation was during a private meeting and the other was in a public gathering, both foretold of God's judgement against Ahab for his wickedness.
Subsequently, Ahab was mortally wounded in battle when an opposing archer "drew a bow at random," and struck him between the joints of his armor." (1 Kings 22:34) Further, when Ahab died, his chariot was washed that evening and "the dogs licked his blood" just as Elijah had foretold earlier. (1 Kings 22:38)
Ahab was dead, and a vindicated Micaiah left the prison, comforted by the sureness of God's Word that is ever-inspiring for us today,
The LORD is my light and my salvation; whom shall I fear? the LORD is the strength of my life; of whom shall I be afraid? When the wicked, even mine enemies and my foes, came upon me to eat up my flesh, they stumbled and fell. Though an host should encamp against me, my heart shall not fear: though war should rise against me, in this will I be confident. …I had fainted, unless I had believed to see the goodness of the LORD in the land of the living. Wait on the LORD: be of good courage, and he shall strengthen thine heart: wait, I say, on the LORD. Psalm 27:1-3, 13-14 (AKJV)
Twenty eight-hundred years have passed, and God's Word is still absolutely true, dependable, and applicable. The New Living Translation of Proverbs 30:5 reaffirms that, "Every word of God proves true. He is a shield to all who come to him for protection." Amen!
In our vacillating world—full of its contradictions—it's comforting to know that our faithful God will not change His mind about keeping His precious Word, despite the conflicting results of the latest opinion polls, its incompatibility with human reasoning, or when it is in contrast to godless societal expectations. Trust the Lord, and His Word, for He and it will be true, reliable, and consistent. Won't you trust in Him and His Word today?
What a Wonderful Savior!