For March 28, 2021
During this week of consecration and celebration, Jews from around the world converged on Jerusalem to increase the city's population exponentially as all Jewish males were required to attend the Passover and the Feast of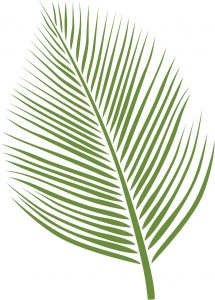 Unleavened Bread, the Feast of Weeks (Pentecost), and the Feast of Booths (Tabernacles).1
Passover and Unleavened Bread hold critical historical significance to the Nation of Israel and to Jews around the world as these observances commemorate the Children of Israel's release from four-hundred years of Egyptian slavery (Exodus 12:1-13:16, 23:17, 34:23).
Although festive revelers, musicians, and celebrators packed the streets with song, dance, and reverie, this day marks the last week of Jesus' earthly life, which culminates with what we observe as Palm Sunday, Good Friday, and Easter.
The week began on our Palm Sunday, with Jesus' Triumphal Entry into His beloved Jerusalem.  He presents Himself as the long-awaited Messiah riding a donkey. Crowds gathered to lay palm branches and their outer clothing in His path shouting,
Hosanna to the Son of David! Blessed is He who comes in the name of the Lord! Hosanna in the highest heaven! (Matthew 21:9 NIV).
Jesus did not ride a horse, as would a conquering hero. Instead, He rides the donkey's colt, a symbol of peace, to present Himself as God's humble emissary sent to redeem a fallen humanity. His calculated actions fulfill these two Messianic prophesies,
Indeed the Lord has proclaimed To the end of the world: "Say to the daughter of Zion, 'Surely your salvation is coming; Behold, His reward is with Him, And His work before Him' " (Isaiah 62:11 NKJV).
Rejoice greatly, O daughter of Zion! Shout, O daughter of Jerusalem! Behold, your King is coming to you; He is just and having salvation, Lowly and riding on a donkey, A colt, the foal of a donkey (Zechariah 9:9 NKJV).
Humbly, our Lord presents Himself as the Messiah, our Conquering Hero who will not only establish His eternal Kingdom where righteousness, justice, and peace will reign forever. He also presents Himself as the Holy One of Israel—the Lamb of God—who ultimately defeats the plague of sin and death that has troubled humanity since shortly after the Creation.
No one but Jesus Christ loves us so deeply, gives of himself so freely, and keeps us so completely in this life and the next. He is the King of Kings and Lord of Lords who delivers us from a life of sin and presents us before God in His role as our everlasting Advocate, Alpha and Omega, Bridegroom, Deliverer, Faithful and True Witness, Lord and God, Good Shepherd, Great God and Savior, Great High Priest, Hope of Glory, I Am, Eternal Judge, Friend, King of Glory, Lamb of God, Light of the World, Physician, Prince of Peace, Prophet, Ransom, Redeemer, Resurrection and Life, Righteous Judge, Rock, Ruler of Kings, Savior, True Vine, Truth, Way, and Word of God. The Lord Jesus Christ is, and shall forever be, our all in all.
What a Wonderful Savior!