For April 17, 2022
It was the first day of the week, and like any other Sunday morning, just before dawn, in Jerusalem, it was peaceful and quiet. Those who were not sleeping, or just rising, were preparing for a normal day.
There were Roman soldiers guarding a brand new tomb that was sealed with a Roman seal. Tampering with the seal meant death at the hands of trained, war-hardened, fighting men. The tomb was sealed, and the soldiers were prepared to defend it with their lives. Yet, their morning was interrupted by the voices of women who were coming to the tomb to embalm their Savior and Lord.
Then it happened (my emphasis),
Early on Sunday morning, as the new day was dawning, Mary Magdalene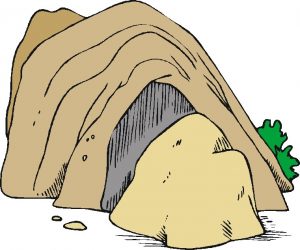 and the other Mary went out to visit the tomb. Suddenly there was a great earthquake! For an angel of the Lord came down from heaven, rolled aside the stone, and sat on it. His face shone like lightning, and his clothing was as white as snow. The guards shook with fear when they saw him, and they fell into a dead faint. Then the angel spoke to the women. "Don't be afraid!" he said. "I know you are looking for Jesus, who was crucified. He isn't here! He is risen from the dead, just as he said would happen. Come, see where his body was lying. And now, go quickly and tell his disciples that he has risen from the dead, and he is going ahead of you to Galilee. You will see him there. Remember what I have told you." The women ran quickly from the tomb. They were very frightened but also filled with great joy, and they rushed to give the disciples the angel's message. Matthew 28:1-8 (NIV)
Unbelievers have futilely tried to dispute the resurrection speculating that the Disciples stole Jesus' body, or the women went to the wrong tomb, or people hallucinated, or our Christ somehow escaped the tomb. Yet no one has yet to refute or discredit the New Testament account of the resurrection as one author attests,
The empty tomb is that silent testimony to the resurrection of Christ, which has never been refuted. The Romans and Jews could not produce Christ's body or explain where it went, but nonetheless, they refused to believe. Not because of the insufficiency of evidence but in spite of its sufficiency do men still reject the resurrection.1
In addition, two-thousand years later, and we still cannot refute the testimonies of those who like you and me, have met Him, trusted Him, and accepted Him personally into our hearts and lives; we who have also experienced the Spirit-changed, God-transformed life He freely gives to all who would come to Him by faith.
As Jesus says in John 20:29 (NKJV), "Thomas, because you have seen Me, you have believed. Blessed are those who have not seen and yet have believed." Amen!
Jesus died; He was buried, and He rose from the dead, just as He predicted. No other person in human history ever successfully predicted his death, and promised to rise from the dead, as our Lord did.
The Old Testament predicted the resurrection:
For you will not leave my soul among the dead or allow your holy one to rot in the grave.    Psalm 16:10 (NLT)
Yet it was the Lord's will to crush him and cause him to suffer, and though the Lord makes his life an offering for sin, he will see his offspring and prolong his days, and the will of the Lord will prosper in his hand. Isaiah 53:10 (NIV)
His resurrection is the hallmark of the New Testament Church and is the core of our Gospel message,
Who was delivered for our offences, and was raised again for our justification. Romans 5:25 (NKJV)
For I delivered to you first of all that which I also received: that Christ died for our sins according to the Scriptures, and that He was buried, and that He rose again the third day according to the Scriptures… And if Christ is not risen, your faith is futile; you are still in your sins! Then also those who have fallen asleep in Christ have perished. If in this life only we have hope in Christ, we are of all men the most pitiable. 1 Corinthians 15:3-4, 17-19 (NKJV)
Because Jesus Christ is risen:
He proved He is Lord, Savior, Redeemer and God.
We know that there is life beyond the grave, and that God is The God of the living.
He is the only Mediator between us and God.
We have victory over sin, death and the Enemy (Satan) because of His victory.
Our eternal fellowship with God is assured, as His Spirit keeps us until He returns for us.
Jesus  Christ is alive and well. He lives in Heaven where He is seated at the right hand of God. But He also lives as He occupies the hearts and lives of those of us who love Him even today, as this song reminds us,
He Lives2
Alfred H. Ackley
I serve a risen Savior; He's in the world today; I know that He is living, whatever men may say; I see His hand of mercy, I hear His voice of cheer, And just the time I need Him He's always near.
In all the world around me I see His loving care; And though my heart grows weary I never will despair; I know that He is leading, thro' all the stormy blast; The day of His appearing will come at last.
Rejoice, rejoice O Christian, lift up your voice and sing; Eternal hallelujahs to Jesus Christ the king! The hope of all who seek Him, the help of all who find, None other is so loving, so good and kind.
Chorus:
He lives! He lives! Christ Jesus lives today! He walks with me and talks with me along life's narrow way. He lives! He lives! Salvation to impart! You ask me how I know He lives? He lives within my heart.
Christ the Lord is risen today…Yes! He is risen indeed! Won't you trust in Him and receive the new, abundant life He promises?
What a wonderful Savior!
Josh McDowell, Evidence that Demands a Verdict: Historical Evidences for the Christian Faith, rev. ed., vol. 1, (San Bernardino: Here's Life Publishers, Inc., 1979) 226.