For April 15, 2022
It was early Friday morning, and Jesus had not yet slept. Thursday evening, He celebrated the Passover Seder with His Disciples and spoke of His death and glorious return. During the meal, He instituted what would become a commemorative Lord's Supper, which symbolizes His death and suffering for all humans everywhere.
While praying in the Garden of Gethsemane with His beloved Disciples, Judas would lead a band of corrupt religious zealots to capture the Lord—for thirty pieces of silver. Those zealots would later that evening condemn the Lord to death because He affirmed His deity as the Only Begotten Son of God.
They hastened Him before Pontius Pilate, who sent Him to Herod Antipas, who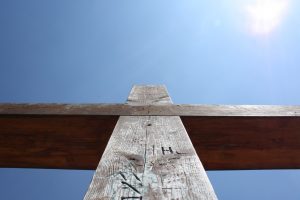 returned Him to Pilate again to be condemned to death; but not before the blood-thirsty Roman soldiers mercilessly beat Him.
Then, shortly after sunrise, the Roman soldiers made Simon the Cyrenian carry Jesus' heavy wooden cross to the place of execution, Golgotha (or Calvary); also referred to as the Place of the Skull, because our Lord was too exhausted from the beating He sustained and the loss of blood. There, they crucified Him between two thieves.
Although He was a sinless, guiltless, innocent victim of egregious injustice, our Lord had to die as this familiar hymn attests,
The Old Rugged Cross1
George Bennard
On a hill far away stood an old rugged cross,  The emblem of suff'ring and shame; And I love that old cross where the Dearest and Best For a world of lost sinners was slain.
Oh, that old rugged cross, so despised by the world, Has a wondrous attraction for me; For the dear Lamb of God left His glory above To bear it to dark Calvary.
In the old rugged cross, stained with blood so divine, A wondrous beauty I see; For 'twas on that old cross Jesus suffered and died To pardon and sanctify me.
To that old rugged cross I will ever be true, its shame and reproach gladly bear; then he'll call me some day to my home far away, where his glory forever I'll share.
Refrain
So I'll cherish the old rugged cross, Till my trophies at last I lay down; I will cling to the old rugged cross, And exchange it some day for a crown.
Ezekiel 18:4 tells us that everyone who sins will die, and Romans 6:23 affirms that the wages of sin is death. To remedy sin's curse, God sanctioned blood sacrifices to atone for human sin in Leviticus 17:11. In other words, sin requires death as its penalty, but blood atones for sin.
As the Son of Man, Jesus accurately predicted His vicarious death and suffering when He said:
Just as Moses lifted up the snake in the wilderness, so the Son of Man must be lifted up, that everyone who believes may have eternal life in him. For God so loved the world that he gave his one and only Son, that whoever believes in him shall not perish but have eternal life. For God did not send his Son into the world to condemn the world, but to save the world through him. Whoever believes in him is not condemned, but whoever does not believe stands condemned already because they have not believed in the name of God's one and only Son.   John 3:14-18 (NIV)
John the Baptist rightly proclaimed: "Behold the Lamb of God!" when he introduced Jesus to others in John 1:35. For He who knew no sin became sin for us as, so that we may become the righteousness of God through His vicarious death, as 2 Corinthians 5:21 teaches.
Jesus loved us with such a great love that He willingly paid the price for our past, present, and future sins with His precious blood at Calvary. In other words, someone had to shed blood and die to pay for our sins, and Jesus alone chose to pay this enormous price for us—we could never pay ourselves.
Jesus Christ could have escaped death on the cross, but He sought to fulfill God's will instead of His own, as Isaiah 53:5-6 (NKJV) tells us,
But He was wounded for our transgressions, He was bruised for our iniquities; The chastisement for our peace was upon Him, And by His stripes we are healed. All we like sheep have gone astray; We have turned, every one, to his own way; And the Lord has laid on Him the iniquity of us all.
Beaten all night, spat upon, degraded, insulted, ridiculed, and insulted, our Lord chose to be hung on a wooden cross. He had the power—and every right—to command legions of angels to destroy us. But He did not. Lovingly, He gave His life for our sins, and became our Perfect Intercessor as this song tells us,
Love Lifted Me2
James Rowe and Howard Smith
I was sinking deep in sin, Far from the peaceful shore, Very deeply stained within, Sinking to rise no more; But the Master of the sea Heard my despairing cry, From the waters lifted me, Now safe am I.
All my heart to Him I give, Ever to Him I'll cling, In His blessed presence live, Ever His praises sing. Love so mighty and so true Merits my soul's best songs; Faithful, loving service, too, To Him belongs.
Souls in danger, look above, Jesus completely saves; He will lift you by His love Out of the angry waves. He's the Master of the sea, Billows His will obey; He your Savior wants to be, Be saved today.
Refrain
Love lifted me! Love lifted me! When nothing else could help, Love lifted me. Love lifted me! Love lifted me! When nothing else could help, Love lifted me.
Yes! Our Lord and Savior, Jesus Christ chose to be the innocent victim so that we could experience eternal love, joy, peace and fellowship with God that continues through this life into the next. Jesus had to die for us so that we can have the gift of eternal life through Him. Won't you consider receiving His wonderful, sacrificial gift to pay for your sins?
What a wonderful Savior!
George Bennard, "The Old Rugged Cross," The New Church Hymnal, Ralph Carmichael, ed., (Newberry Park: Lexicon Music, 1976), 429.